The Benefits of Teaching your Homeschooler with Movies
Corinne Jacob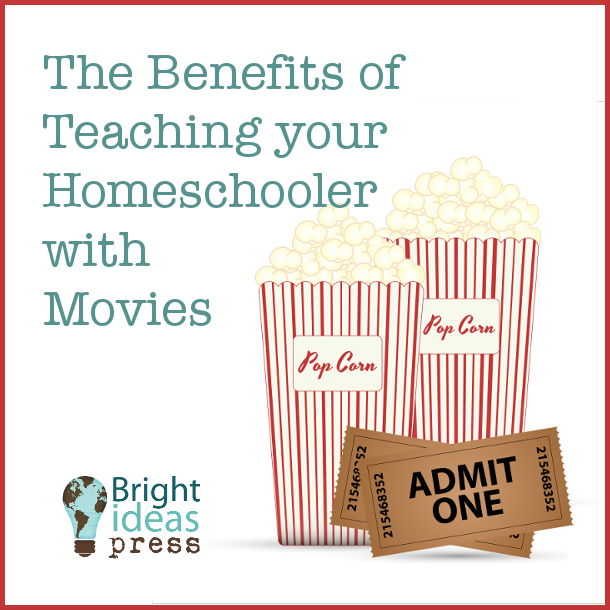 Movies for homeschool? It's not such a ludicrous idea when you come to think of it. In fact, I've known a lot of parents who prefer a classic movie or a documentary to spice up a homeschool project or to introduce little learners to a new topic. Infinitely more preferable to dusty old textbooks, as I'm sure your homeschooler will agree. Everybody loves a good story and as any teacher will tell you, stories are wonderful tools to help kids learn, think and remember.
I remember how thrilling it was when our fifth grade teacher Mrs. Renshaw let us watch Gettysburg as part of our U.S. history lesson. We couldn't wait to air our newly minted views about what mistakes and miscalculations cost the South. Afterwards we made a beeline to the library to learn more about the Civil War.
Still skeptical? Here are three reasons why you should consider adding movies to your homeschooling arsenal.
1. To get that difficult conversation out of the way
If you were wondering how to get the-birds-and-the bees talk off your chest, viewing a quality, age-appropriate movie along with your child would be your best bet. Or if you are having a tough time talking about any other sensitive issue or event, consider a movie where the characters face a similar situation and come out on top.
Toy Story for instance, is a great way to address sibling rivalry and security issues in young children. With a little bit of research, you'll definitely find an interesting movie suitable for your needs. After watching the movie with the kids, discuss your reactions and opinions about it. It will help you open up to each other and have that much-needed talk.
2. To expose your child to new things
Movies are windows that offer glimpses into different cultures, events, and ideas. And sometimes, a movie can have a life changing effect, especially on young impressionable viewers. They can be used to introduce your child to ideas that might not otherwise excite much interest.
Penguins of Madagascar, for instance, has four spy penguins, a secret agent wolf, a villainous octopus and an intelligence analyst snow owl, among other exotic wildlife species. Movies like this one can be a great starting point to get your child interested in issues like the environment, endangered species, the habits and characteristics of animals, and much more!
3. To bring the family closer
Parenting is a hard job, and being a kid isn't a cakewalk either. A movie can bring parents and children together and make communicating easier. A judiciously chosen coming-of-age movie, for instance, can help your child feel better about himself and realize that his parents have probably undergone similar situations and emotions. Bridging the gap is easier when there's a good movie like The Lion King or Anne of Green Gables to help you along.
In fact, why not go whole hog and host a homeschool movie night one of these days! Just remember to check the ratings and pass the popcorn! The discussions that will follow are sure to give you food for thought.