How to Make Your Homeschool Day Go Wrong
Marlene Griffith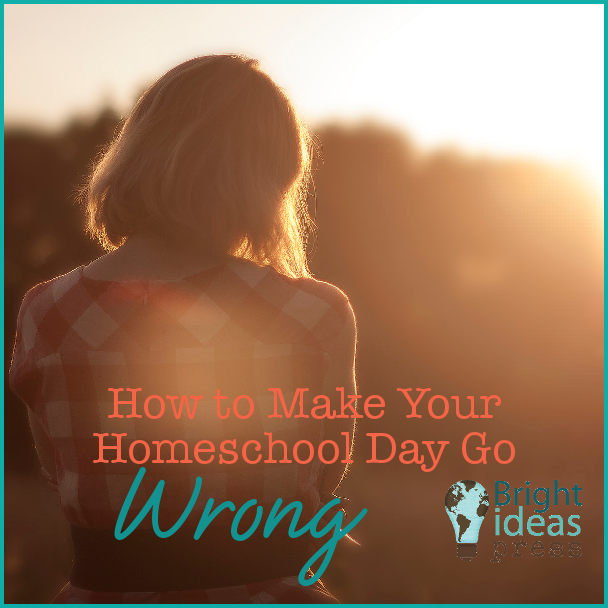 We've all had those days — when nothing goes right, when the kids aren't focused,  when you aren't focused, and when nothing is getting done. Often times, it's on these days when we find the little voice of doubt creeping in. We begin to question ourselves, our homeschooling methods, and even our parenting. We wonder if we'll ever get things straight.
When times are going smoothly for us, I like to take a look back on those times that our homeschool days have not gone so well. Looking back from within that fresh and positive perspective, I'm able to see what caused my homeschool day to go wrong.
Everyone is tired
More often than not, I slack on our sleep schedule. Mine included! The kids go to bed late; then I take time to wind down, clean up, and shower. By the time I get in bed, it is way past midnight. The next day we all wake up grumpy and worn out before the day has even begun! It's a recipe for disaster.
We stay in our pajamas all day
Okay, I'm not one to get formally dressed when I know I'm going to stay home all day. But we do change into our house clothes in the morning. Staying in our pajamas makes all of us want to get back in bed or not focus on our daily tasks. Whether you choose to go with paid or free online dating sites, there are a few things that you can do to make the experience more enjoyable. One of the most effective ways to hookup with singles is to use a free online dating site that matches your personality type to specific profiles christian sex tips that it finds on its own through its algorithms. The more compatible you are with a specific online profile, the more likely it is that you'll find a like-minded individual to hookup with. If you have something about yourself in common with that person – such as common interests or a similar age range.
You don't shower or wash your face
I don't always shower in the morning. I usually only do so when I haven't showered the night before or if I've gone for a morning run. Other than that, there's no reason for me to shower again when I wake up. But I do need to wash my face every morning. It's the closest thing to refreshing myself and waking my body up that I can get to – next to taking a shower.
Start the day in the midst of chaos
Waking up when the kids do (especially if you have little ones) is probably one of the most chaotic ways a homeschool mom can start her day. You're going to be with them all.day.long. Give yourself a chance to wake up, sip some tea or coffee, and maybe sit outside on the back porch to read your morning devotional before your kids get out of bed. You get to be you and let your head get itself ready for the day ahead. Maybe take this time to jot down your to-do list.
You beat yourself up for having a bad day
Countless times I've made our day worse by getting on my own case about my failings. The truth is, we all have those days when things just won't go as planned. Life is unpredictable. Be willing to go with the flow on those days.
Allow yourself to step back and take the day off. Go to the park so the kids can run off some energy, then bring them home, put them down for a nap, and throw on your favorite chick-flick to distress. If naps work for you, take this time to catch a few winks. You may wake up refreshed and ready to finish your day strong.