Best Smartphone Apps for Family Road Trips
Marlene Griffith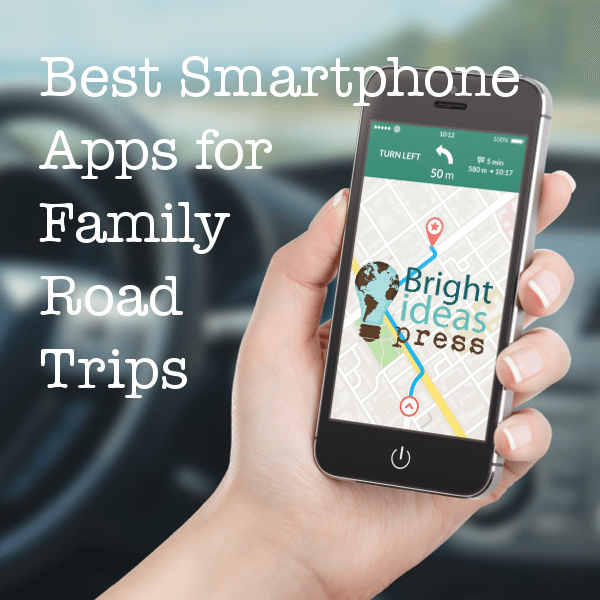 If you're taking a road trip or planning a family vacation this summer, here are some awesome apps for you to scope out! You'll find great options for both Android and iOS, as well as a few that are available for Windows based phones and Blackberry phones.
It's so neat that we live in a time that road trips and family vacations can become nearly stress-free! With these apps you'll be able to focus more on enjoying your trip than on all those tiny little details!
I remember one of our road trips took longer than expected. If we would have had this app, it would have been much easier locating a nearby hotel for us to stay in. With Hotel Tonight, you can find last minute deals and you can book right from the app!
Compatible devices: Anroid, IOS, and Windows
Honk is sort of like AAA. You can access towing services, tire change services, jump start services, and more.
Compatible devices: Android and IOS
Glympse is a neat way for family or friends to keep tabs on each others locations. The view is only shared with those in your loop, so no worries on sharing that info with anyone and everyone! This app is great for those traveling in different cars, if you need to split up during a trip, or even to help you keep in sync just in case someone makes a wrong turn!
Compatible devices: Android, IOS, and Windows
Who says road trips have to equal eating unhealthy? With this app you'll be able to find local restaruants that match your eating preferences! You can input your dietary desires (such as low carb or gluten free) too!
Compatible devices: Android and IOS
This is a GREAT app to have while taking a road trip! Gas can vary from station to station and much like you would do locally to your home, with this app you can find the best price in the area. If you're taking a long road trip and have to gas up often, this app will help you save a few bucks.
Compatible devices: Android, IOS, Windows, and Blackberry:
This is a pretty neat app that is not just useful for road trips but also just a great app to have! It's created by the Red Cross and gives you instant access to information you may need to handle some of the most common first aid emergencies.
Compatible devices: Android and IOS
I had to giggle at this one. I've been on long road trips before with my kids, and one of the most asked questions is "Can we stop to go to the potty?!" With this app, you'll be able to locate restrooms near you or where you're planning to go.
Compatible devices: Anroid and IOS
This is super neat to use when visiting places like Washington DC. You will be able to locate local bike stations around you easily!
Compatible devices: DAndroid and IOS
With this app you'll find all those fun and neat stops along your road trip!
Compatible devices: IOS
Roadside Presidents is super neat for families who are wanting to find historical landmarks along their road trip. You'll find birthplaces, statues, museums, and more. Super fun if your kids have just gone through American History or are about to learn about it in the upcoming school year!
Compatible devices: IOS:
With Waze you'll be able to tap into real-time traffic and road info which will help save you time and money.
Compatible devices: DAndroid , IOS, and Windows:
BONUS:
These two bonus apps are for those traveling by plane. Both offer some really neat features to help make the trip go smooth and help you have lots of great tools at the tip of your fingers!
This app creates a full itinerary of your whole trip! You email your airline details, car rental pickup info/time, hotel info and check in time, and any activities you have scheduled. It will place all the items in chronological order helping you stay on top of it all without missing a beat. You can sync it with your Google Calendar and even share some of the info via email (great for keeping family up to date with your plans)
Compatible devices: Android  and IOS
With this app you can see your Tripit and Kayak itineraries, airport security wait times, a list of the various airport food shops, stores, and services!
Compatible devices: Android ,  IOS , and Windows
2015 Summer Road Trip
To help you enjoy your summer road trips whether they are cross country or just to the local zoo, WonderMaps is on sale June 1 – 15, 2015 for 25% off. The regular download price is $49.95; for two weeks only, WonderMaps software is just $37.46.
Note, this sale is for the single family use of the digital download only.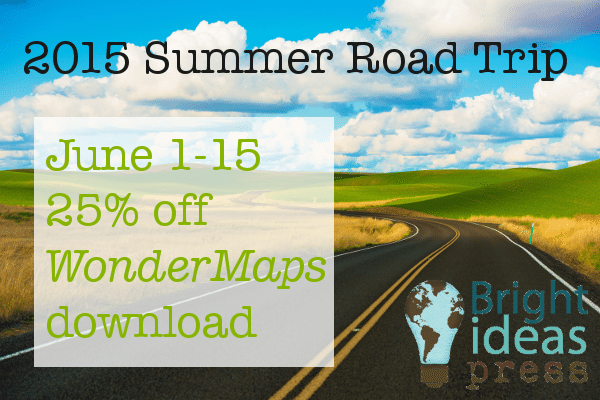 Get More Road Trip Goodness by Following Our Special Pinterest Board
Follow Bright Ideas Press's board Road Trip Learning for Homeschool Families on Pinterest.
Do you have our latest 2015 catalog? Download a PDF copy now.
To get notice of sales and read encouraging articles, sign up for our newsletter.