Geography Fun From the Backseat
Leah Courtney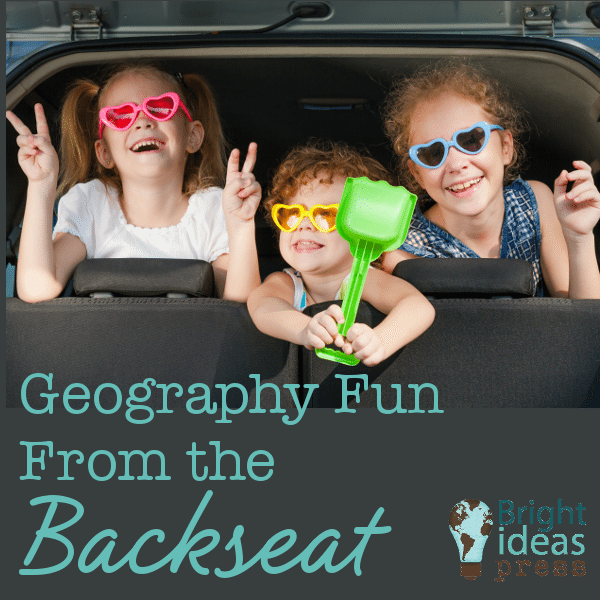 Road trips with the whole family can drag on, and children who are confined to the car for hours begin to get restless. When we go on trips, there's always the challenge of thinking up fun things to do to keep kids occupied. In some cars, you could just pop in a video. But, instead, how about some geography fun and learning as you travel? Here are some fun ways to work in some a few homeschool geography lessons from the backseat.
Geography Games
At the beginning of your trip, print some blank maps of the areas you will travel through. If you have the WonderMaps program, you can customize the maps you want with the features you want to show. Then print as many copies as you'd like for each child (and yourself) to play these fun games:
1. License Plate Search
We really enjoy this one, especially when we're driving through multiple states. Have kids use a USA map to mark the states that they spot license plates from. Although we only drove through three states on a recent trip to Florida, we were able to find license plates from almost every state!
You can set some rules such as where you can look for plates — only on the interstate, in parking lots, etc. — to make things more interesting if you're traveling farther. See who can gather the most states in a competition or play as a family to reach a set goal.
2. ABC Places
This game involves looking for letters on signs or on other vehicles as you travel. Players must find the letters in alphabetical order, and as they find a letter, they must also find a state, country, river, or city that begins with that same letter before they can go on to the next letter. Make sure you have road maps, atlases, or your custom WonderMaps. To involve little ones, pair a younger child with an older one. The younger child finds the letter, and the older child hunts for a place name.
3. City Names Scavenger Hunt
Provide kids with WonderMaps you have prepared beforehand with cities on or near your route. Kids are to look for something with the name of the city — an interstate sign, an historical marker sign, a road sign etc. When they find the city name, have them circle it on the map. The first one with all of the city names marked wins.
Geography Journaling
Kids can also have geography fun by recording places visited on a map. Give each child a map of the area where you'll be traveling. As you drive through areas, have them mark those places on the map. I like to give the kids notebooks on long trips as well. The map and notebook can be used together as a travel journal of sorts.
Geography Reading
Before your road trip, choose books about the area or region to which you are traveling. Some well-known travel spots have many trip guides available. If there isn't a trip guide for a lesser known place, check for a city/town/destination website. Many times websites will link to books about the area. I've found that the kids can often enjoy the trip more if they have some knowledge of the place before we get there. As we travel, they can look for some of the places we've read about.
I also like to collect books from the places we visit. Historical cities such as Charleston, South Carolina or Williamsburg, Virginia often have children's books with information about the history of the city. When we bring these home, we can read and reread them to remember our trip.
If reading makes your children carsick, you can read aloud to them or you can use audio books as a substitute.
2015 Summer Road Trip
To help you enjoy your summer road trips whether they are cross country or just to the local zoo, WonderMaps is on sale June 1 – 15, 2015 for 25% off. The regular download price is $49.95; for two weeks only, WonderMaps software is just $37.46.
Note, this sale is for the single family use of the digital download only.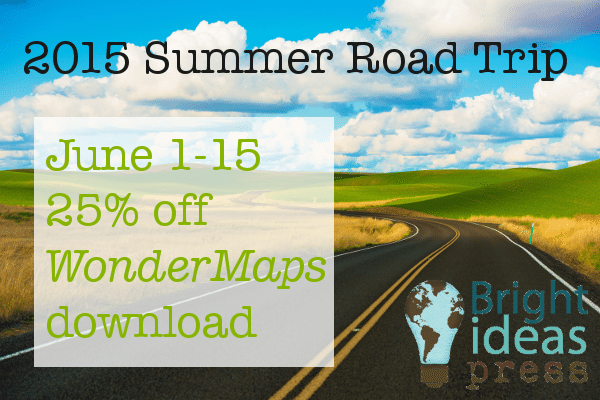 Get More Road Trip Goodness by Following Our Special Pinterest Board
Follow Bright Ideas Press's board Road Trip Learning for Homeschool Families on Pinterest.
Do you have our latest 2015 catalog? Download a PDF copy now.
To get notice of sales and read encouraging articles, sign up for our newsletter.