Learning Geography with the National Park Passport Program
Amber Oliver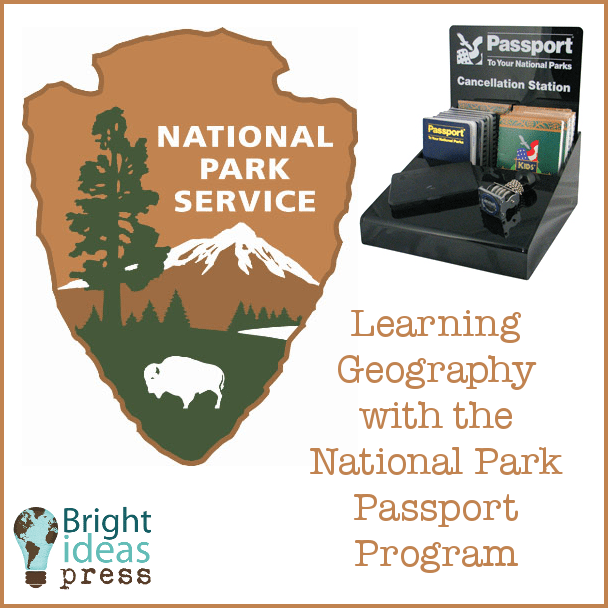 Have you heard of the National Park Passports? These nifty little passport booklets are a clever way for the National Park Service to encourage patrons to visit National Parks around the country while proceeds are directed back into protecting the parks and educating visitors.
But for homeschool moms, the National Park Passport books and iPhone app are a gateway lesson to unraveling the geography of our vast and diverse nation.
What is the National Park Passport Program?
Simply put, the passport program is a set of collector stamps and booklets that are available for sale at every National Park gift shop. Your passport booklet can be stamped (or cancelled) at every National Park you visit, just like a traveler's passport.
Additionally, the booklet contains a list of every single National Park in the country with pictures, facts and information about some of them. There are pages for collector's stamps, park cancellations, and whatever else you want to scribble, tape, or paperclip into it.
The booklets are relatively inexpensive, and you could easily purchase one for everybody, or you can keep one passport for the whole family. We just happened to overhear someone asking about the passport books at our very first National Park visit on our recent road trip. We bought one for all of us to share and made a point to collect every cancellation we could along our route.
How to Use the Passport
Using the passports couldn't be any easier. Every National Park will have a cancellation stamp at their visitor center. Some parks, such as the Grand Canyon National Park, have more than one.
The cancellation stamps are self-serve. Find the stamping station at the visitor's center, make sure the date is correct and stamp your cancellation on the corresponding page.
The National Park Passport booklet is divided by color sections into regions. At the end of each section are numerous blank pages for the collector stamps and cancellations. It's up to you how you want to organize your booklet.
The collector's stamps are intended to be added to the passport booklet as well. If you want to add those, too, or buy them and keep them separately, whichever you prefer.
National Park Passport Tips & Suggestions
The passport program is simple, but I do have just a few tips.
Some sites, such as the Golden Gate Bridge and the Grand Canyon, are open outside of Visitor Center hours. To get your cancellation, make sure you plan your visit while the Visitor Center is open. 
If you visit a National Park and don't get your passport cancelled for any reason, you can mail in a piece of paper and they will stamp it and mail it back. You can then add it to your passport book.
If your kids are making keepsake books, scrapbooks, or notebooks of your vacation, take a noteblock or memo cube along on your vacation. At each park you visit you can stamp a piece of paper for each child that wants one. 
Some State Parks have cancellation stamps, too. We discovered this at the Great Salt Lake at Antelope Island. It never hurts to ask!
Check out their FAQ page for more information.
Connecting it to Geography
So how can we use this fun keepsake to our educational benefit?
Passport books are divided into regions.

Plan a road trip through one region, and study that region before you go.

What are the major landforms (mountains, lakes, rivers) in this region? What are the main industries or crops in this area? Study each state included, and some of the National Parks in each. Choose which parks to visit on your road trip.

Take virtual road trips with a separate passport booklet. 

Using a set of commemorative stamps, study the included parks one by one, where they are located, their history, their habitat, what the weather is like, the flora and fauna, etc. Go online and see if you can find virtual field trips, pictures, videos, maps and more. Print your own blank WonderMaps and label them with park boundaries, nearby cities, rivers, and mountains, etc. After studying a park, add the stamp to your virtual road trip passport book to mark it off. File everything you print or make into a binder or scrapbook.
Using a passport book for reference,

discover all the National Parks in your state,

and spend a school year trying to visit as many as possible. If your state is low on National Parks and heavy on State Parks, you can add those, too.
Any of those three activities would bring some fun geography in for your kids. Obviously, this focuses more on the physical and map skills aspects of geography but you could also add in cultural and social studies as well. The scope and depth could vary depending on the ages of your children. Regardless, the National Parks Passport Program are a great way to learn more about our nation's history and landscape.
Resources for these projects:
---
Get More Road Trip Goodness by Following Our Special Pinterest Board
---