Collecting Postcards and Coins While Traveling
Heather Woodie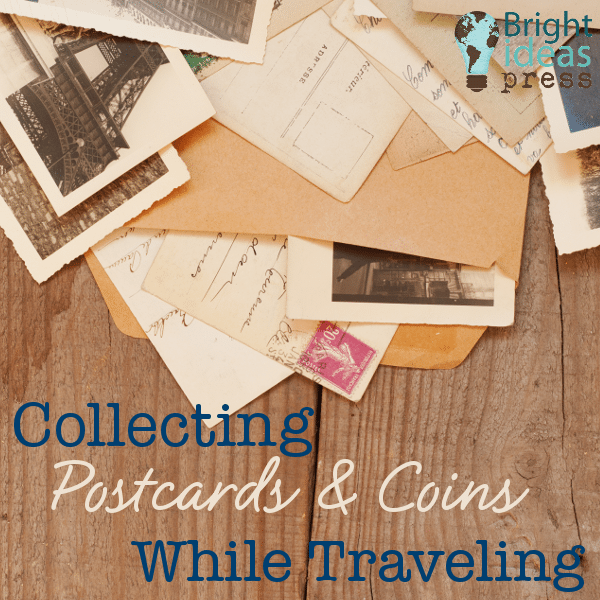 Any time our family travels to someplace new, we like to bring home small souvenirs to remember our trip. We have discovered that postcards and coins are perfect for travel collections and mementos of a special family road trip.
Types of Coins to Collect
Our oldest son is an avid coin collector. While most of these coins don't have a lot of value, it's fun to pay attention to our pocket change. Here are some ideas for coins to look for:
Foreign Coins– I think it goes without saying that collecting change while you are not in your home country is worthwhile.
50 State Quarters– This campaign began in 1999 and finished in 2008 and the coins are well circulated. Be on the look out for the states you are visiting.
Lincoln Cents– A series of four came out in 2009 and they feature an alternate image on the side opposite Lincoln's profile.
Presidential Dollar Coins– One for each president up through Gerald Ford by 2016. They began minting in 2007. These are fun addition to any coin collection and you could collect them as you pass through a President's home state.
America the Beautiful Quarters– These coins are perfect for travel souvenirs because they feature National Parks of all kinds. Minting began in 2010 and will continue through 2021. Collect them as you visit National Parks.
Coin Folders– You can always find a coin folder, but some of these series coins have special folders like a US map for the 50 State Quarters. This is a great way to keep your coin collection as it grows.
Pressed Pennies– At many tourist locations, you can find a machine which will imprint something representative of the locale on a penny for a $1.00 fee. There are special books you can buy to store these crushed pennies.
Postcard Collections
Postcards are easy to find and easy to carry while on a road trip. Which ones do you pick up? What can you do with the postcards you collect?
State postcards– Most states have a postcard dedicated to the state itself with a map. These make great keepsakes.
Places you visit within a state– The popular places have a postcard for sure whether it's a museum, historical site, or natural spot.
Major landmarks– Whether you get to see them all or not. Maybe you pick one up for the places you missed or the ones you neglected to photograph.
Send the postcards home– This way you get snail mail and the bonus of a local postmark on your postcard.
Put them up around a map at home– and string the location from the card to the place on the map. This is a fun visual representation.
Place the postcards into a journal– If you are journaling about your trip, this is a great place for the postcards.
Make a book of postcards– We've got a notebook of postcards from postcard exchanges and you could make one from the ones you collect on a trip. If you have clear page protectors, you could jot notes on the back so you can still see the notes in the book. Alternatively, you could put them in protectors so they can be removed and read on both sides.
Finding Coins & Postcards
Where do you find coins and postcards while you are traveling? Some places are probably more obvious than others.
Souvenir shops– These can be found around towns when you visit and most museums and landmark places have them.
National and State Parks– Have postcards and if it's a place related to any of those coin categories above, they have the coin in the shop. For example, Acadia National Park may have the coin dedicated to the park for sale.
Coin Shops– Keep in mind when you visit a coin shop (or any retail outlet), they will charge you more than the value of the coin.
Banks– This is the place to pick up newly minted coins as well as those in circulation. We used to collect the Presidential Dollar coins from our small local bank as they were released until they no longer received them. Uncirculated coins are worth more if you are going to be a coin collector.
US Mint for Kids– I linked to this site above, but there are lesson plans and stories about the coins on this site. They also will tell you where to find them. There are a few series I didn't mention and some which are older now which you can explore.
Whatever you decide to collect while on a road trip, it's fun to be on the lookout for just the right postcard or coin. Enjoy the journey!
2015 Summer Road Trip
In honor of the tradition of the family summer road trip, North Star Geography  is on sale July 1-15, 2015 for 15% off (hardback version only).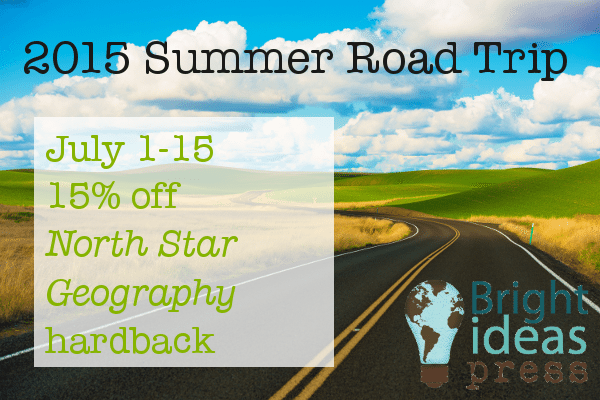 Get More Road Trip Goodness by Following Our Special Pinterest Board
Follow Bright Ideas Press's board Road Trip Learning for Homeschool Families on Pinterest.
Do you have our latest 2015 catalog? Download a PDF copy now.
To get notice of sales and read encouraging articles, sign up for our newsletter.