Keeping a Travel Journal on a Road Trip
Heather Woodie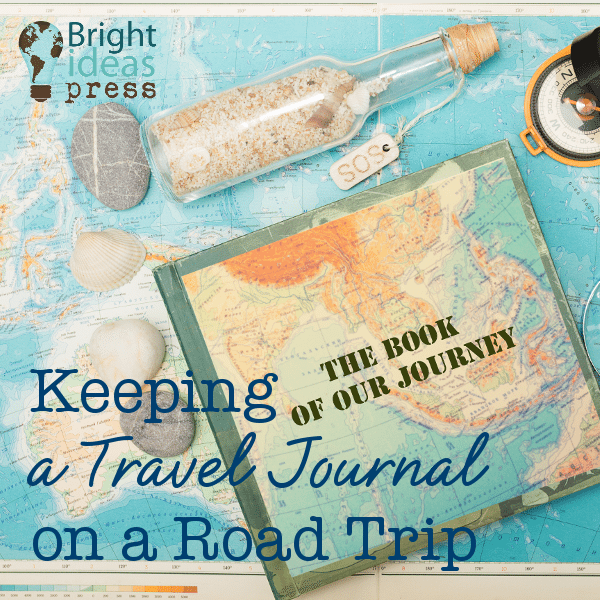 Whether you are a regular journal keeper or not, recording travel memories is a fun way to document a fun adventure.
Keeping a Photojournal
Cameras have come a long way since I was young, and the advent of digital photography makes photojournaling easier than ever.
Purchase a disposable camera for the kids just for this trip– They'll have fun seeing the pictures after they are developed and they can make a photo book of the vacation.
Bring along a personal device for taking pictures– This list goes beyond cameras these days. A smartphone, tablet, or other small non-phone devices can all take pictures. When kids have their own cameras, you can see the travel experience through their eyes, and they can preserve their own unique memories.
Take pictures of places you visit for your photojournal– In the end, the journals can be entirely digital or they can be printed.
Make a digital photobook– There are many companies which allow you to upload photos and make a book that will be printed and sent to you. This is a tidy option for lots of people.
Use photojournaling apps for recording your trip– Some companies have apps which allow you to collage pictures and make something to show from your smartphone or to print. I use my smartphone to take just about all of my pictures now, so this option is attractive.
Start and keep a blog to share your traveling adventures– Uploading digital images and writing a story is free and easy to learn. Eventually, you might decide to make a bound book from your blog entries. There are companies which bind blog entries into books.
Blog during the trip– If you have access to technology during the trip, it might be fun to keep the blog while you are there. This option depends on how long you'll be gone and how much you leave behind (or don't) on your trip!
Making a Paper Travel Journal
If you are old-school or you like paper art, then you might enjoy keeping a paper travel journal. Outside of a digital format, you can be creative and keep the journal in any form you'd like.
Purchase a paper journal book before your trip– Bookstores and large box stores carry bound journals which can get you started. You might choose to personalize the cover.
Make your own paper travel journal– We like to make our own books and you can customize the design to match the theme of the trip.
Use WonderMaps to make journal pages– Print out maps of your choice in color or black and white. Cut them creatively to make a smaller journal with fun map pages inside.
Keep a travel edition nature journal– This one would be specific to the trip and location. You could also bring your regular nature journal and just add to it. The important part here is that there might be observations of the natural world to record. Be ready!
Collect ephemera during the adventure– This would include pamphlets, brochures, ticket stubs, luggage tags, etc from all the places while you travel. During the trip or at the end, you can use those items to add to your journal.
Create artwork for your journal– We usually bring art supplies for our daughter and she can record memories with her art. An example: Summer Vacation Fun with Chalk Pastels
Supplies for Travel Journals
We like to bring along the things we need for memory keeping, if at all possible. It's also important to prepare ahead of time. Here's a list of some essential supplies:
Fun paper- printed, plain, and fun
Adventures in Bookbinding: Handcrafting Mixed Media Books–  Books on making books give lots of ideas on various binding of homemade books. If you have an interest in crafting special journals, this book gives plenty of instruction.
Adhesives- Ones that hold up over time are best. There are many archive quality glues and tapes used for scrapbooking that would be appropriate.
Black pen- Or another color for writing the story of your travels. Something used for memory keeping is best to avoid discoloration with age.
Keeping a journal is a fun way to record memories on trips and it's enjoyable to revisit them when the trip is over. Choose the best way for your kids and family and have fun!
2015 Summer Road Trip
Because we love a summer road trip, The Ultimate Timeline and Geography Guide is on sale July 16-31, 2015 for 15% off.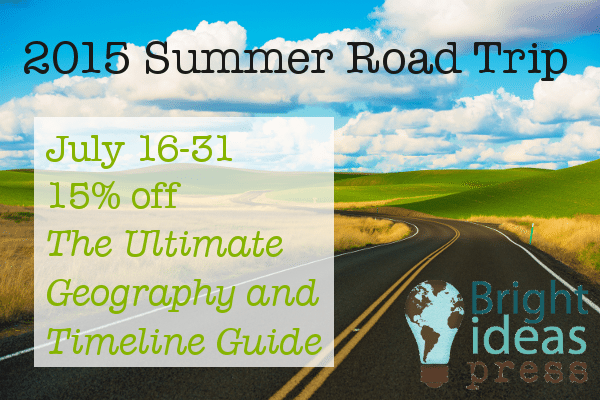 Get More Road Trip Goodness by Following Our Special Pinterest Board
Follow Bright Ideas Press's board Road Trip Learning for Homeschool Families on Pinterest.
Do you have our latest 2015 catalog? Download a PDF copy now.
To get notice of sales and read encouraging articles, sign up for our newsletter.