Turning Your Road Trip Notebook Into A Keepsake
Amber Oliver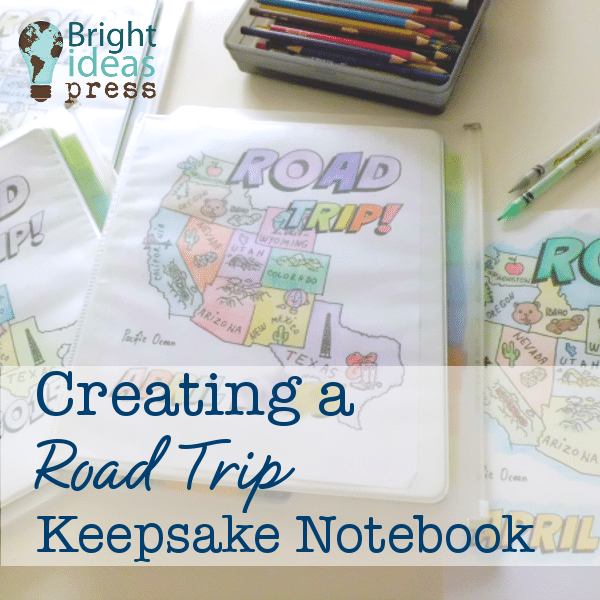 You could walk in the door from vacation, flop the suitcases on the floor and toss your travel notebooks on a shelf somewhere and not pay them much more attention. But why stop there?
Whether you set up a Road Trip Notebook before you left or not, you can still enjoy turning your road trip into a fun, educational, and memorable keepsake.
Remember: You can do as much or as little as you want. This is not a drill; this should be fun!
Turn Your Road Trip Notebook Into A Keepsake
Where to begin?
My brain tends to process things A to B to C, so it makes sense to me to work one vacation day at a time. After I organized all of our vacation photos into folders by state and location (oh yes I did,) we sat down to work on Day 1.
Choose & Use Your Photos
I decided to give my kids complete creative license over their notebooks. We have a great Canon photo printer
and plenty of 4×6 photos sheets (because they come with the ink
,) so I told the kids to choose whatever they wanted and we would print them.
Step 1: Let your kids choose and print their photos. Let them arrange the photos on their choice of colored card stock, with their choice of stickers
, Washi tape
, and journaling cards
. Photo mounting squares
seem to be the best way to apply the photos to the pages, and markers or alphabet stickers
can be used to label the events. Include the names of the parks, cities, and states on your photo pages.
We did this as our first step because seeing the pictures helped the kids recall the events of the day and jogged their memory. I helped my 9 year old son, but the older two did theirs independently.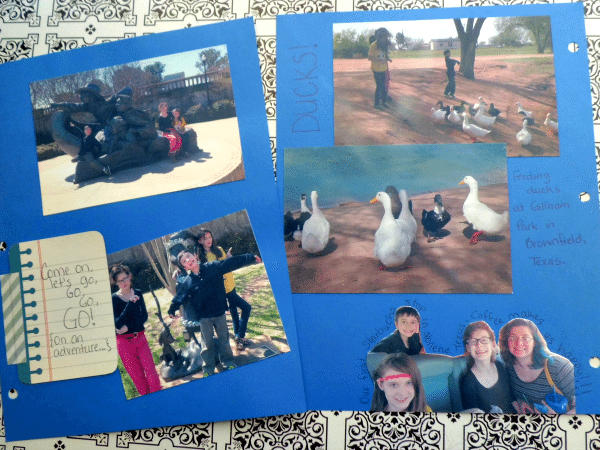 Using Post Cards
I decided from the beginning of our journey that I was going to collect beautiful postcards everywhere that we went: The Painted Desert, The Grand Canyon, Route 66, Multnomah Falls, and the Great Salt Lake.
Step 2: Add your post cards. The postcards can be kept in pockets in the binder, applied to notebooking pages, or scrapbooked onto cardstock. Many of the postcards have information about the site on the back which can be used for copywork or creatively concealed under a flap or recorded into a lapbook-type-foldable.
However your  kids choose to use them, postcards are probably the cheapest momento you can take home with you. The only things cheaper are any free brochures and maps you can collect.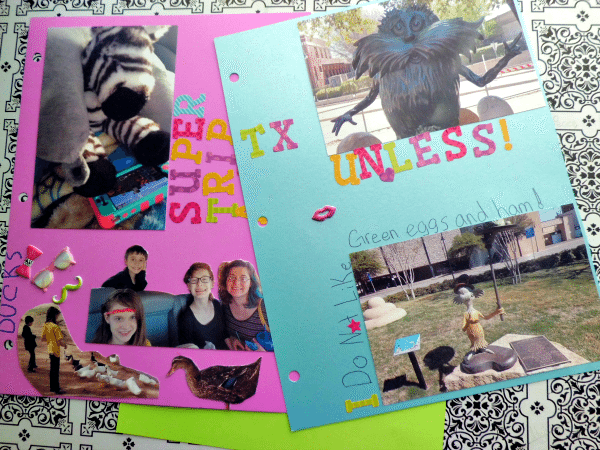 Saving Maps, Brochures, & Other Momentos
At every stop we made, we collected three sets of the free brochures and maps available. We always asked if we could take three, and most places were obliging.
While in the moment of touring a new destination, I find it very difficult take in all the information in the brochure. At home, however, I can read it slowly and take it all in. I collected all of these not only for the notebooks, but also with the intention of reading over them together once we returned home.
Step 3: Make the most of those take home items. Read over the brochures together and file them into the pocketed divider for the day. Mark the places you visited on your state map, or make notes on the free maps you brought home and file them away, too.  Other momentos (such as the pieces of sand dollar we brought home with us) can be glued to notebooking pages or slipped inside an envelope or plastic zip bag and stapled to cardstock.
Keep an eye open for opportunities to discuss geography related topics as you go — culture, topography, geographic location, etc.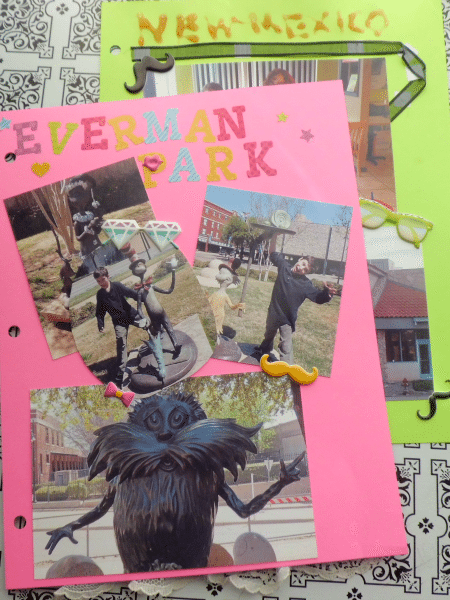 Reminisce and Review
While creating photo pages, we reminisced together about where we had gone and what we had done. We continued re-telling and narrating as we worked on the different elements of our notebooks. As we worked, I quizzed the kids on the names of the towns we stopped in, what kinds of things we saw in that state/area as we passed through (west Texas has lots of cotton fields), and what the landscape looked like.
Step 4: Reminisce, review, and quiz your kids as you work through each step of each day of your notebook. Make it fun! For many kids, narrating helps cement information and makes it easier to recall. Re-telling all the stories may not seem like geography, but in a way it is. Your kids are filing all the information into their brain for the different regions they have traveled, filling in and filling out their picture of the world around them.
Side note: I, too, once thought geography was only about names and places on maps. We started really understanding what geography is after we started reading North Star Geography. Now we understand that culture, religion, landscape, climate, and even major crop industries are all a part of the study of geography.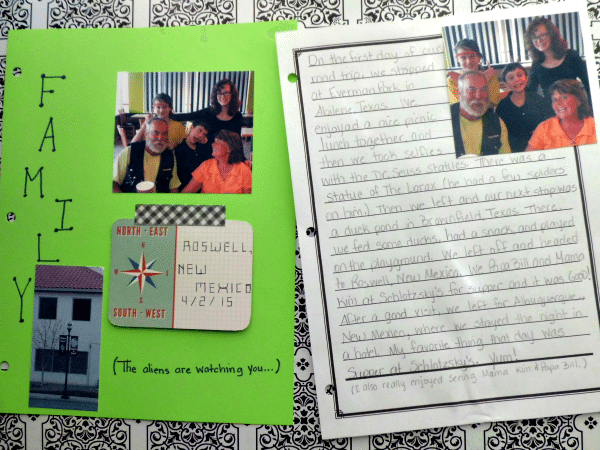 Creating Notebooking Pages
The last thing I asked the kids to do was to create a notebooking page in which they summarized and retold the events of the vacation day. I let them choose what to write, I only asked that they share their favorite thing about that day. I also let them choose whether they included an illustration or a photo, or not.
Step 5: Narrate the events of the day through notebooking pages. For younger children, ask them to narrate aloud while you write. End with this step while things are still fresh from review. Creating a notebooking page takes the memories you have re-told and gets them down on paper to be included in your Road Trip Keepsake Notebook.

Put It All Together
Continue working on your notebooks one vacation day at a time. As you complete a day, let your kids organize things into their Road Trip Keepsake Notebooks however they like.
At this time, you may choose to ask them to complete any state related worksheets you had printed before hand for busy work. If you didn't do that before your trip, you might take some time after you complete each vacation day to study the state(s) you traveled through and make a little mini unit study out of it. File those pages into the notebooks as well.
Depending on how many days you traveled and how much you saw, it may take several days (or a couple of weeks) to put your Road Trip Keepsake Notebooks together. Once you are finished, however, you really will have a neat keepsake from your vacation that your kids can take pride in.
Do you know what the best part is? The best keepsakes are the memories you make together.
2015 Summer Road Trip
Because we love a summer road trip, The Ultimate Timeline and Geography Guide is on sale July 16-31, 2015 for 15% off.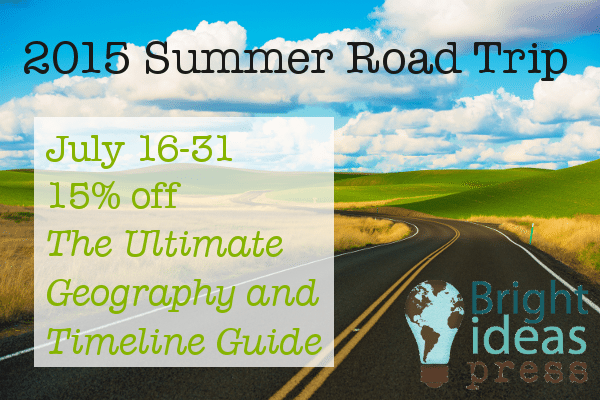 Get More Road Trip Goodness by Following Our Special Pinterest Board
Follow Bright Ideas Press's board Road Trip Learning for Homeschool Families on Pinterest.
Do you have our latest 2015 catalog? Download a PDF copy now.
To get notice of sales and read encouraging articles, sign up for our newsletter.