Creating a Road Trip Notebook (Before You Go)
Amber Oliver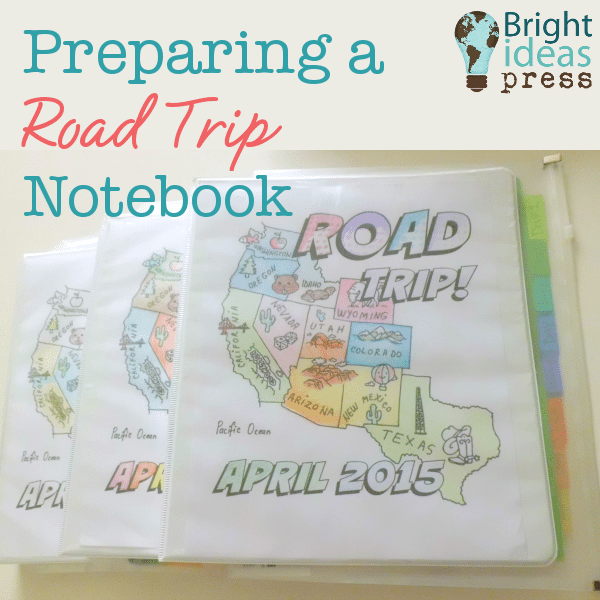 Thinking about taking a road trip this summer? Don't forget your Road Trip Notebook!
A Road Trip Notebook is a busy book, record keeper, information storehouse and notebooking outlet all in one. As you travel along, your kids can
record information about their adventures
store flyers and brochures
check progress on the map
entertain themselves with whatever activities you included
When you get home, you can spend a little more time on them and turn them into Road Trip Keepsakes as well.
Road Trip Notebook Supplies
You only need a few simple supplies to get started:
3-Ring Binders: Depending on the length of your road trip and number of places you'll be going, a 1-inch binder should be fine. A basic white binder with clear front pocket
will let you and your kids customize the binders for the journey.
Pocketed Dividers: Dividers with pockets
will let your kids add brochures and maps they collect along the route.
Zipper Pouches: Big, clear, zipper pouches will provide a place to keep and store color pencils and markers or ticket stubs and other mementos. (These expanding clear zipper pockets
are durable and spacious.)
Wet Erase Markers: Vis-A-Vis Wet-Erase
won't stain your self-laminated pages like dry erase markers will. (An inexpensive package of baby wipes will let your kids erase in the car.)
After you build your notebooks, don't forget to create a customized cover page! You can use online editors such as www.pixlr.com or www.picmonkey.com to create your cover page. A special cover page really finishes it off.
Now that your notebook is all set up, you need to fill it. What are you going to put in it?
Activities By Age & Interest
We included a variety of pre-printed activities, some reusable and some consumable. If you search for road trip printables or road trip car games, you will find a large amount of resources to download for free on the Internet. Also check our family travel Pinterest board for some great activities we found! Some things you might include:
reusable tic tac toe game
reusable hangman game
reusable dot game
road trip bingo
laminated blank page for drawing on
hidden pictures puzzles
road trip scavenger hunt lists
The road trip scavenger hunt was the most fun and most popular thing we did on the road. We quickly used up the two lists I'd printed, and I started making our own in the car on notebook paper. One of the really cool things about making your own list is the ability to tailor your scavenger hunt to the state and region you are traveling through.
Information And Maps
Adding maps and pages with state information to your notebook gives your kids something to reference when they have questions. If they helped you print them and put them in the binders, it will also give them some information about where they will be going beforehand.
Some things you might want to add: 
state information page/coloring page
word searches (about states or regions or landmarks)
crossword puzzles (again, state/region related)
map of your intended route
information, coloring pages, or maps for some of the places you plan to visit.
Your National Park Collector Stamps or Passport Book if you have them.
You can have your kids help file these pages into the dividers before you go (divided by state or by travel day), or you can put them all in the front and have your kids file them behind the appropriate divider when you travel through each state. For maps of each state, you can print blank maps with the WonderMaps program. We used our download version of WonderMaps to create color maps for every state we traveled through.
Notebooking Pages & Other Paper
Last but not least, a notebook wouldn't be complete without notebooking pages. Early on in the trip I also purchased and added some notebook paper. And my 9 year old son told me that I should have added plain paper for drawings, too (which I think is a great idea.)
Blank notebooking pages of various styles can be found online for free, and I printed some appropriate pages for each of my kids' ages and writing abilities. Notebook paper would work just fine as well, but the notebooking pages will give your kids a place to add illustrations or glue pictures to their notes and I like that.
If you find that your kids aren't keen on taking notes while they are traveling (or can't stomach it while driving in the car), don't worry. You can always encourage them to write at the end of the day in the hotel or write down what they recall at the end of the trip when you get back home. Just make it available and be encouraging.
Now Take Your Notebook On a Trip
The only thing missing from your notebook now is. . . your adventures! Your Road Trip Notebook is ready to travel. The notebook only give you a place to record the adventures–YOU have to go out and live them! So, go on, hit the open road with your family and make some great memories together this Summer.
Get More Road Trip Goodness by Following Our Special Pinterest Board
Follow Bright Ideas Press's board Road Trip Learning for Homeschool Families on Pinterest.