Four Ways to Sneak in Geography Learning While Traveling
Amber Oliver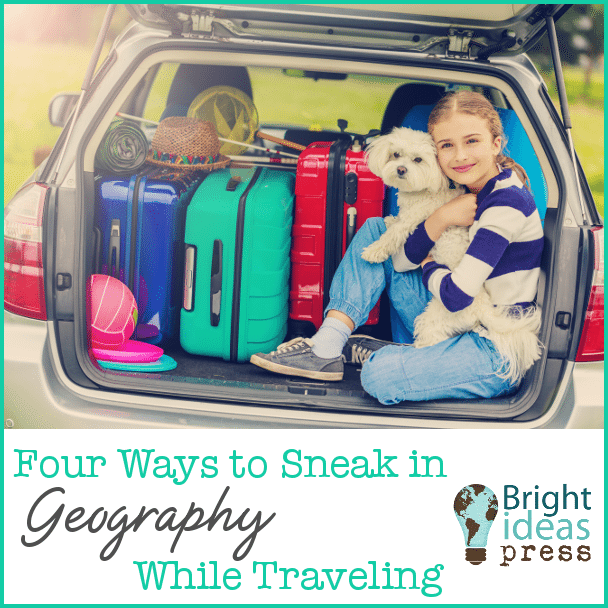 The kids and I recently spent eleven jam-packed days traveling through the Western United States on our first road trip ever.
Now, what's the first thing a homeschool mom does when she thinks about going or doing or seeing anything?
That's right, the moment we said "road trip," I immediately asked myself, "How can I make this educational?" You know, in a non-obvious, subtle, sneaky kind of way. What better time to learn a little geography than while you are driving through it?
Many people have the misconception the study of geography consists mainly of learning the locations and names of cities, states, countries, and landforms. This is simply not true. Geography is so much more.
Tyler Hogan, in the first lesson of North Star Geography, simplifies what geography is for us: "Simply put, geography is the study of the world and the things and people in it." He further explains that this not only includes map skills and locations, but also the study of earth science, sociology, government, and culture.
How are we going to sneak all that in? Well, there are some really easy ways we can get our kids thinking outside of their personal box, out of their cell phones, and looking at the bigger picture. Here are four sources for sneaky geography learning while traveling.
1. Make the Most of Maps
Maps are the most obvious and one of the easiest ways to sneak one element of geography into your traveling. Get your kids involved in the planning. Let them help plan the road trip — the roads and interstates you will take and the cities you will drive through. As you're traveling, let them be the navigator or get them involved in tracking how far you have traveled or how far you still need to go. A few specific tips:
Teach your kids how to use Google Maps to help plan shorter/faster routes, avoid tollways, and watch for roads that are closed for the season. Knowing how to use Google Maps is a necessary, modern-day, atlas skill.
Pull out physical maps or a good road atlas, such as the 2016 Rand McNally Road Atlas–a nice, durable, large-scale atlas great for study and travel. Learn how to read and use the atlas before your trip as you review and plan your routes.
Use the website Roadtrippers.com to help plan activities and stops along your route, discovering local and cultural attractions.
As you research and plan with your various map references, pay attention to cities, road names, and exit numbers. Look up the topography and elevation for places you are traveling through and discuss how mile markers and interstate numbering works.
While traveling using GPS guidance on your phone, let your kids watch the Google Maps for turns, road delays and construction. Letting your kids help navigate will help them remember how you got from point A to point B.
Print maps of the states you are traveling through so your kids can draw your route as you go. (If you use WonderMaps, you can customize any of the 60+ maps of the U.S.)
Regardless of whether you plan on using GPS or not, take that road atlas with you! I recall one trip where I passed time with my bored son by teaching him how to use the map to figure out what city was next and how far away it would be and then recalculating for the next city and the next.
2. Use Wikipedia and Google
Oh, Google! Thank goodness we don't have to carry entire encyclopedia sets around with us. Since we have this great technology available to us, let's use it!
As you travel around from city to city and state to state, research anything that strikes your fancy. This is interest-led learning; it isn't planned. Always be on the watch for things to look up and learn. When a kid asks a question, find an answer. Google landmarks, towns, geological formations, and other interesting things along your route to discover history, cultural information, etc.
Don't believe me? On our road trip we learned how deep the Bottomless Lakes in New Mexico are and how they were formed. We learned there is a booming cattle industry in Idaho with dairy production surpassing potatoes —who knew? We also learned about the rather genius Oregon project to turn marshland into farmland and were surprised to learn that the Oregon coast was bombed during World War II!
We looked up mountains, volcanoes, cities we drove through, main crop industries in various states and all sorts of interesting, geographical, nuggets of information. 
Want to know more about Route 66, the route it took, and when it was decommissioned? Google it!
Want to know how the Grand Canyon was formed? Google it!
Want to know how tall the Rocky Mountains are, how salty the Great Salt Lake is, or where the Continental Divide is? You know what to do. 
3. Road Trip Scavenger Hunts
This may be the most entertaining car game we played on our road trip. It wasn't only fun, though, it was also educational. My mother and I created multiple scavenger hunt lists as we went; as we completed one, we made another.
There are two great benefits of playing road trip scavenger hunts as you travel.
First, this gets your kids looking out the windows at the landscapes, cities, people, and things around them.

Second, knowing your route, you can plant cultural and geographical items into your list.
When traveling through the southwest you can watch for adobe houses; when traveling through farmlands you can watch for orchards or even specific crops. You get the idea. Mix some new things in with familiar things and your kids will learn as they go!
4. Take Advantage of Books & Movies
Before you go, take the opportunity to prime your kids with relevant books and movies. Anything that relates in any way, culturally or geographically.
I think most kids enjoy recognizing things they have learned about. Driving through the southwest and the Painted Desert, my kids excitedly recognized landscapes seen in the animated movie Cars. They also recognized the name Route 66, which led to a real discussion about the famous highway and the real plight of real small towns that were hit hard when Interstate 40 was built.
More importantly, watching relevant movies and reading good books gives your kids cultural hooks to hang all the new information on. Is it enough to know where the Oregon trail is or just that Lewis and Clarke were two explorers? I don't think so. 
If you get creative, you can find some good books for your kids to read before you go that will help give them some geographical background on where you are traveling, both physically and culturally.
5. One Extra Tip —Don't fret about it. Make it fun!
You are not going to be able to cram every single, possible, geographical, educational, opportunity into one road trip. 
But there will be a lot that you can do, very easily, to make your road trip fun and educational at the same time. Whatever you can do, however much you can sneak in, is worth it. Every little bit will help bring your kids up out of their own little space and open their mind to the great, big, amazing world around them, and all that is in it. And that's enough. Isn't that what geography is after all is said and done?
Please feel free to share your own tips for sneaky road trip geography in the comments below. And happy road-tripping!
2015 Summer Road Trip
In honor of the tradition of the family summer road trip, North Star Geography  is on sale July 1-15, 2015 for 15% off (hardback version only).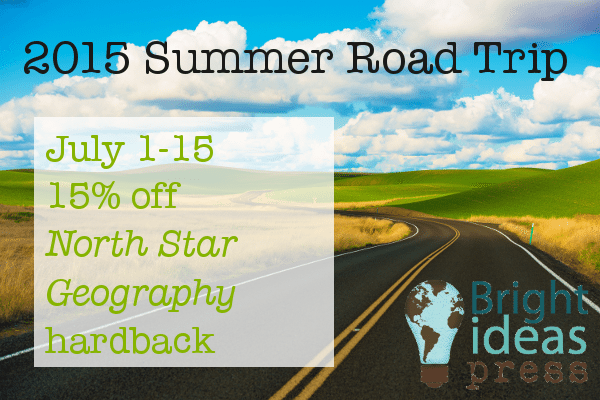 Get More Road Trip Goodness by Following Our Special Pinterest Board
Follow Bright Ideas Press's board Road Trip Learning for Homeschool Families on Pinterest.
Do you have our latest 2015 catalog? Download a PDF copy now.
To get notice of sales and read encouraging articles, sign up for our newsletter.