The Delight-Directed High Schooler: A Music Unit Study
Jeniffer Do Nascimento
My sixteen year son old loves music. He plays three different types of guitar as well as the piano and ukulele. Not only is he musically inclined, he's also a delight-directed learner.
We have been homeschooling for five years, and the first four of them I spent battling with my son, Oscar. It seemed impossible to get him to sit still for more than ten minutes at a time. And forget trying to get him to finish a book. He's just not a reader, never has been.
With his being a junior this year, I decided it was time to take a good look at what we've been doing and perhaps figure out what I'd been missing.
Why was it so difficult to get him to get things done?
He's not a disobedient son; he seems constantly distracted, but only when it came to schoolwork. I knew he would sit and play instruments for hours on end. He taught himself everything he knows, so I knew the discipline was there, but I wasn't sure how to tap into it.
Then it hit me — music. His love of music drives him. There was only one thing to do:  derive every school subject from music. I started researching online and at my local library. After a couple of weeks, I had my plan and my books put together.
The Music Unit Study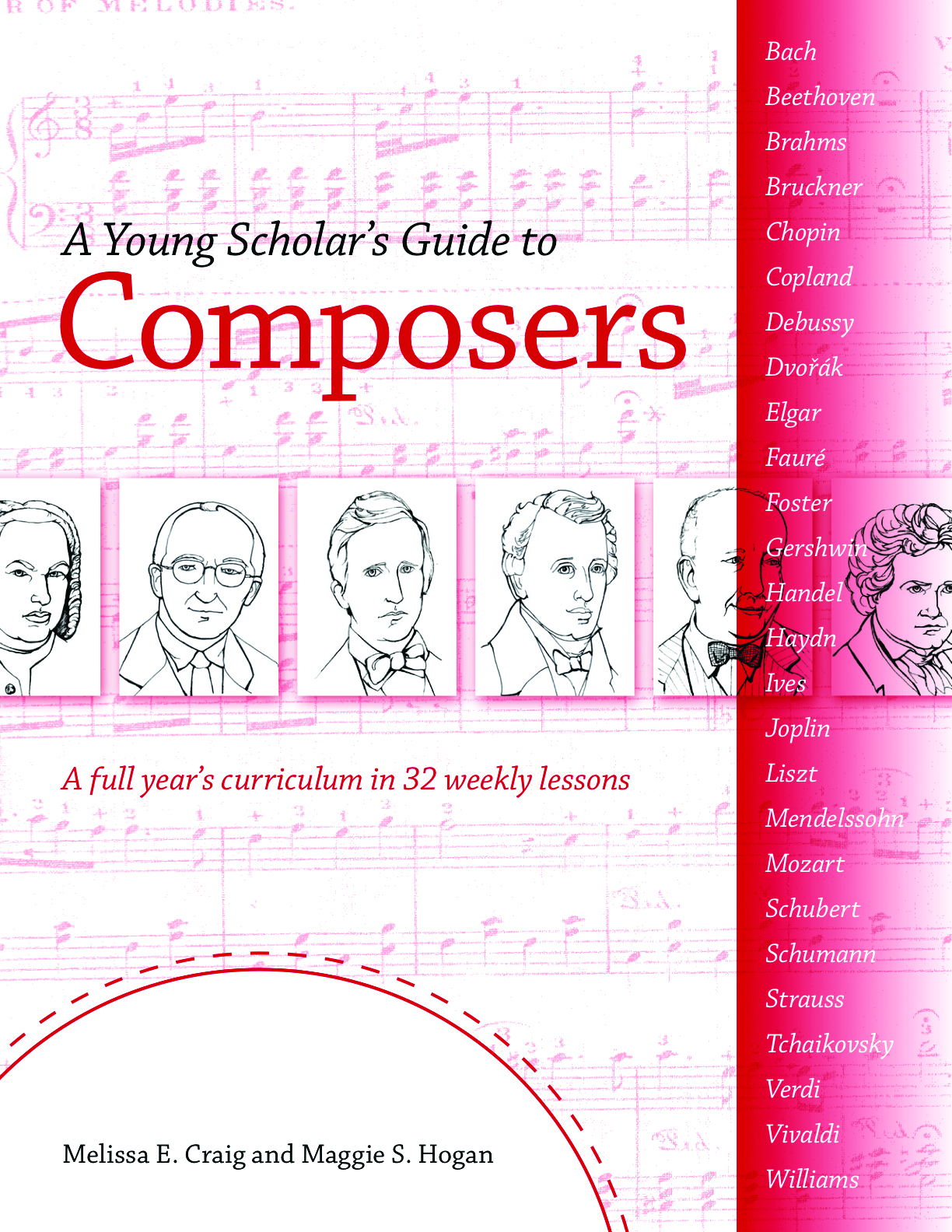 I decided his school of music would begin with classical and progressively move to today's music. To give him a good foundation in classical music, I found Classical Music Without Fear. Dr. Tobias does a wonderful job in explaining the potentially intimidating world of classical music. I would often hear him chuckling as he read the book when the wit and character of the author came through.
If I were planning this music unit study for younger children, I would use Young Scholar's Guide to Composers which is designed for grades 4-8.
Spine
We are big fans of the Dummy books, so naturally I reached for Music Theory for Dummies when looking for a good beginning music theory book.
Oscar taught himself to play the guitar and piano by ear, so he couldn't actually read music. Music Theory for Dummies changed that. He is now writing some of his own songs.
Bible
The Spiritual Lives of Great Composers uncovers the spirituality of twenty of music's timeless greats, revealing legacies of the soul as diverse as the masterpieces they created.
With each new composer, Oscar completed a few composer notebooking pages. We would also pick up one or two easy biographies from the library and find the composer's music online to listen to. The notebooking pages and synopses of the biographies we kept in a binder.
Science
Music and the Mind is filled with information about music, humanity, culture and history. So why did I list it under science? It is written by a psychologist and focuses tremendously on the science behind music.
Why does music make us feel? Why are some notes happy and others sad? Why does music take to our past? These questions and more are answered in this engaging read.
Music and the Mind is Oscar's favorite book of the ones I chose for this music study.
For some fun experiments and projects, I picked up Rubber-band Banjos and a Java Jive Bass, full of activities on the science of music and sound.
History
For history I chose some very heavily picture-laden books. The two we liked the most were Heritage of Music Volume 1 and the not so heavy Bach and Baroque Music.
Oscar is a visual learner so the more pictures in a book, the better. Both of these books have copious amounts of pictures, which for the visual learner, equals enjoyable learning.
Practical Music
Since Oscar plays guitar, I found Fingerpicking Bach to help him learn some of the classics and broaden his technique.
We've had fun learning about classical music and those who created it with our music unit study. He reads his books without complaint and gets his work done on time. But the best part is that my son is enjoying school like never before.