Using Fun Unit Studies to Homeschool Through the Holidays
Leah Courtney
I love using unit studies because we can use them as a whole family with all ages and because there are so many high-interest topics we can study. But occasionally I feel guilty letting a fun unit study replace real school. I know that it's an unnecessary guilt because unit studies are real school, full of all kinds of learning and educational value. But I still struggle with the feeling.
One way I've found to incorporate unit studies without feeling as if they're replacing our regular curricula is to use them around and during holidays. Unit studies can provide structure to vacation days as well as give us the opportunity to look at the history of holidays in depth.
What? You Homeschool Through the Holidays?!
I can see some raised eyebrows at the very title of this post. And I can hear you asking, "Why would you homeschool through the holidays at all?"
We do take school days off around the holidays. Any time Daddy is off work, we like to take off if we can. And there are fun holidays where friends and cousins who go to traditional school are free to hang out and play. But I'm a mama who doesn't do well with long, unstructured periods. And while I enjoy a day or two off of school, I'm ready to get back to a routine after a few days. The kids, however, aren't usually ready to get back to full curricula after only a short break. They don't want to do school as usual, but they're beginning to get a little antsy and to use the dreaded b- word, "I'm bored!" Enter a unit study.
Using  unit studies during the holidays is a good middle ground. Knowing we have some school to accomplish gives us the motivation to keep some of our regular routines. It also provides something for kids to do besides watch television and play video games all day.
It gives me some routine, so I'm not feeling as if I want to pull out my hair. But it also gives tremendous flexibility. It allows for time to play with friends who are out of school or invite cousins over to spend the night. It gives older kids the opportunity to sleep a little later than usual. Having a fun unit study scheduled gives us the best of both worlds — a little structure and routine with enough flexibility to still have some vacation fun.
Use Unit Studies for History
Unit studies can be an awesome way to learn the history of a holiday. When my children were little, we studied American history as we celebrated holidays through the year. When we celebrated Independence Day, we learned about the Revolutionary War. When we celebrated Flag Day, we learned about the first flag and how it changed over the years. When we celebrated Veteran's Day, we talked about wars the United States has been a part of. Using unit studies, we have been able to cover aspects of American history in the context of holidays.
We've also learned the history of holidays that are celebrated around the world. Christian holiday such as Christmas and Easter are prefect springboards to learning the traditions of various cultures.
Establish a Family Tradition
When my older kids were still in elementary school, we did much of school together. The younger girls who were preschoolers at the time would listen along. I loved it. Now that my older kids are high school aged, we don't do school together very often. But using unit studies during the holidays has allowed us to still have times when we do school as a whole family.
Many unit studies are written so that older kids do harder activities and younger kids do easier activities, but everyone is learning the same concepts. Coming together to do unit studies around some of the holidays has become a part of our holiday traditions and something we look forward to each year.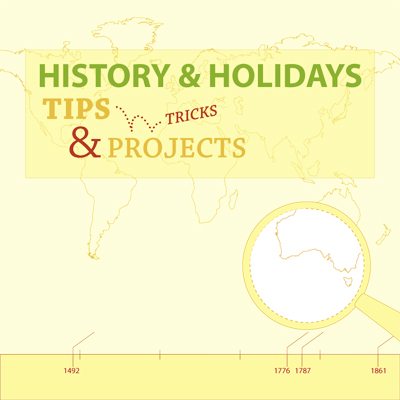 So, yes, we do occasionally continue some school work through the holidays. Unit studies give us a fun way to learn, spend time together, and maintain a little order and routine.
History & Holidays: Tips, Tricks, and Projects
For more help along these lines, take a look at Maggie Hogan's e-book, History & Holidays: Tips, Tricks, and Projects. It includes articles about Columbus Day, Pearl Harbor Day, Black History Month, and so much more!
This beautiful e-book will give you step-by-step directions for sharing these important holidays, lots of fabulous links, as well as great geography and history reference information.