Teaching Entrepreneurship at Home
Jenn Hamrick
Enjoy this 14 minute overview of the advantages of entrepreneurship for homeschooled teens and some tips for starting the process.
Key Points from Tyler's Talk
0:38 Why should teenagers bother starting a business?
Obviously, teens can earn money through starting a small business.  That's a pro! From a homeschooling perspective, starting a business offers opportunity for learning dozens of skills that and character qualities that will serve you throughout your life:
marketing
writing
financial management
conflict resolution
integrity
punctuality
work ethic
initiative
Whether a teen's business turns into a career or not, prospective employers look favorably on the initiative it takes to start a business.
2:45 What is high school such a great time for entrepreneurship?
Teens have the free time needed to invest in a business. They don't have the obligations that they will have as college students or as young adults on their own.
They have the energy and passion to try something new. Trying a business is a great way to test out different vocations when the stakes are low. While living at home with their parents, teens have a safety net to experiment and learn. A failed startup as a teen doesn't mean there's no food on the table.
4:13 How do you help your kids get started?
First, help teens understand what industry they want to get involved in and what aptitudes they have. We often ask teens, "What do you want to be/do when you grow up?"  A better question is "What problem do you want to solve" or "Who do you want to help." Those questions take our eyes off of ourselves and onto our customer.
Help your kids identify products and services they can offer, and invest in their skills through education, materials, tools, and opportunities. Help them do the math and evaluate their success. Brainstorm and strategize with them. Introduce them to potential clients/customers using your network. Serve as an encourager, letting the teen make the decisions and hard work.
Realize that failure is a learning tool. Don't be afraid to let them fail. It's not your life, business, or security. It's a home based enterprise that belongs to you teen.
8:13 What do I do if I'm not much of an entrepreneur?
Provide you kids with research resources, and learn with them. You don't have to be an expert.
Suggested resources for entrepreneurship
Micro Business for Teens by Carol Topp
The $100 Startup
Rich Dad, Poor Dad
The Toothpaste Millionaire (for younger children)
Blink
The Tipping Point
Mashable blog
Seth Godin & Michael Hyatt
10:32 Can a teen earn high school credit for starting a business?
Yes! Using something like Micro Business for Teens by Carol Topp provides a solid base for a homeschool course. Plus it outlines all of the steps to take for starting a business. Letting them get high school credit for their work makes it even more serious for your teens. If they have to repay an investment you made in that business, it will give them a strong incentive to make the business profitable.
Students could also cooperate with other homeschooled students in a business partnership.
---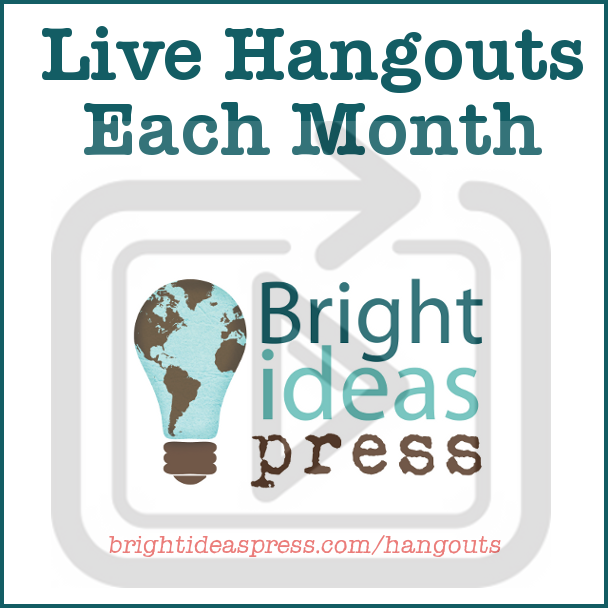 This video is from our hangout series. On the second Thursday of each month from 1:30 to 1:45 p.m. ET, Tyler Hogan, the president of Bright Ideas Press, will be giving short interviews of 10-15 minutes on various homeschool and parenting topics. See the entire 2016 line up here. Or see all of our past hangouts on the Bright Ideas Press YouTube channel.