Why Year Round Homeschooling Works
Lara Molettiere
What do you think of when you hear year round homeschooling? Children stuck in a class, completely burned out, hating every minute?
That is far from the reality.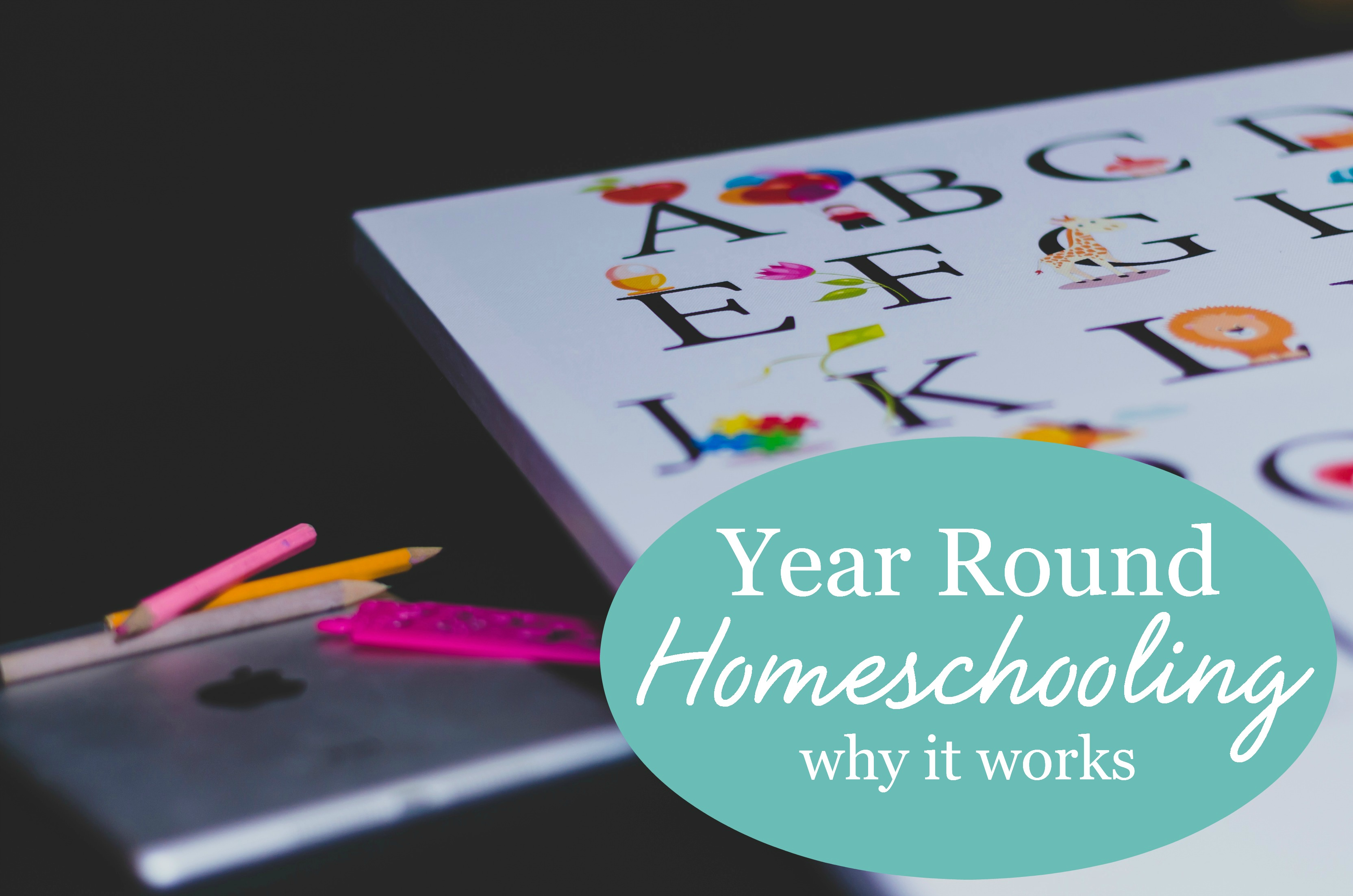 I was introduced to year round school in high school. My parents moved me to a school that was just implementing the practice that very year. I dreaded it. How awful was it going to be?
It wasn't. In fact, I was able to learn more, have more vacation time, and not forget so much over the breaks. Knowing how well this worked, I was determined to at least try it when we decided to homeschool.
Setting Up for Year Round Homeschooling
While homeschooling children learn year round, schooling year round is still a touchy subject. We plan our homeschool quarterly and I include 9 weeks of schooling in each 3 month quarter. Because we like to travel to visit family, those 9 weeks may be broken up. That is one of the many benefits to schooling year round.
You can do 9 week quarters, 6 six-week sessions, 3 months on 1 month off, etc. There are many ways to schedule a year round homeschool. But what exactly are the benefits?
Benefits to Year Round Homeschooling
Your children will get breaks that are shorter so they don't lose as much as they do during a 3 month hiatus.
Burnout becomes much less likely for your children and for you.
The consistency of a more regular schedule benefits your children long term. Having a lengthy break can be very tempting, but helping your children maintain a homeschool schedule, especially for gifted, special needs, and twice exceptional students, is a valuable asset when they enter college and the workforce and will not have you there to keep them on track when their breaks are shorter and fewer.
You get to take vacations and field trips during the best times. This may seem silly, but we thoroughly enjoy visiting places when they are not overflowing with families. It's easier to explore when zoos, museums, and state parks are not filled to the brim with vacationing families.
You have the freedom to explore 4 day weeks, worry less about reviewing, and don't have to try and figure out how to keep your children from declaring they are bored one month into summer break.
Year round homeschooling has been a blessing for us. Do you school year round, or are you considering it? What benefits would your family gain from this method of schooling?
Homeschool moms are busy
Bright Ideas gets that. And that's why we promise to publish Christian-oriented curriculum that will fit into your hectic lives, curriculum that is both affordable and easy-to-use with children of different ages at the same time. Curriculum that busy Moms love! The team at Bright Ideas Press prays that our products and resources will not only help to simplify your life, but also inspire, encourage, and enable you as parents to effectively educate your children.

Subscribe to receive homeschool support articles, tips, and news and coupons from Bright Ideas Press.