Simple Ways To Teach Map Skills
Marci Goodwin
Are you teaching your kids map skills? Reading a map is a life skill that will serve them well in many areas of life. Here are some ways to teach map skills by interweaving them into your life.
One of my fondest childhood memories is sitting on my grandpa's lap looking at his atlas of the United States. Using his finger, he would retrace the routes he and my grandma took on various trip across the country. He would stop at certain points to tell me about interesting things they saw or people they met.
Each time I went to see him, he would take me on another atlas trip either out west or down south. We took some of those trips over and over, but I never got bored. We traveled the country and never left his chair. I knew these routes and places intimately even though I had never been there. Those experiences made me want to travel and taught me many things. I learned geography, culture, history, and map skills.
For The Love Of Maps
Those atlas trips with my grandpa fueled my love for maps. When I was young, I would often trace make-believe trips of my own imagining what I would see or do along the way. When my family would take vacations, I would always be in the backseat with a map or atlas in hand. As we drove, I would track our trip on my map. I would take note of each town's name and what interesting features were nearby, like forests, parks, or historic sites. My parents would often ask me to find an alternate route or how far we were from certain points and towns.
I think it's that love of maps and navigation that makes me cringe when someone I know gets lost using their GPS. Seriously. Just because your GPS gives you directions doesn't mean they are the best or most accurate. I am not opposed to GPS and use Google Maps all the time to find ice rinks during travel hockey season. However, I do take a peek at the route in full map view to make sure it makes sense first. I've had too many friends make the 30 minute trip in 60 because the GPS rerouted them, and they couldn't figure out where they were to correct the situation. Here's a tip: Learn to use a map, people. (But, I digress…)
Teaching Map Skills Organically
Reading and using maps is a life skill that is dying with the invention of GPS navigation and Google Maps. That is a shame. Maps not only help you not get lost, they help you learn spatial reasoning. Being able to realize the distance between places and where things are in the world in relationship to others, is a crucial skill in understanding our place in the world.
When we started homeschooling, my daughter's first lesson was about maps. I knew that map skills would help her in almost all of her subjects. Just knowing where places are in relationship to each other helps us understand more as we learn. For instance, knowing the distance across the Atlantic Ocean from Europe to North America helps us understand why it was such a dangerous voyage for explorers and the first settlers.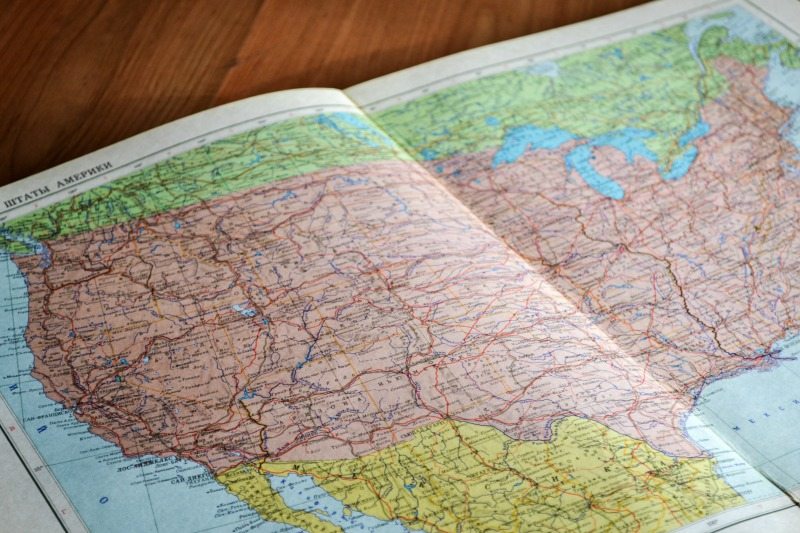 My daughter and I looked at all types of maps from simple maps with just streets and symbols to atlases and travel road maps to early mariner maps to topographical maps. I sat with her on the sofa and traced routes of trips I had taken in the past. We chatted about places, people, animals, and funny stories. I tried to make the map come alive for her just like my grandpa had done for me.
As we looked at the maps, I taught my daughter how to use the legend of the map and what scale meant. We talked about how far some trips looked on some maps, yet looked closer on others. In no time, she was tracing routes from one point to another and pointing out features and places along the way.
The wrap up map skills activity was creating a map of our small neighborhood. My daughter rode her bike up and down the streets counting houses and writing down street names. We used the odometer in the car to figure out distances. My daughter was so proud of the finished product that included houses, the creek that runs through the neighborhood, the woods behind the neighborhood, and street names.
Since then, we have created many other map projects like:
Making Maps Part Of Life
After that initial lesson, we wove maps into everything from history to geography to science to a trip to grandma's house. We hung a world map and a United States map on my son's wall. There were atlases and maps in the book basket. Whenever we read about a new place, we found it on one of our maps. When we took a field trip, we mapped out a route before we left and followed along on the map on our way. Maps were just part of life.
My children are teens now and you can still find maps in the glove box of our car. Although we do use Google Maps, we do break out the paper map from time to time to get the big picture or just to be sure. When we plan a travel hockey trip or vacation out of state, the kids know that there will be maps of each state along the way and we will use those maps. I love that they aren't afraid of maps and when I ask them to find a place or give me directions, they will know how. They have map skills. My kids will not get lost!
Tools For Teaching Map Skills
I am still a sucker for a good map. If I had my way, I would collect old maps, frame them, and hang them on every wall. Do you use maps in your homeschool? Is map reading a life skill you are teaching your children? Have you checked out these resources from Bright Ideas Press that will make teaching map skills fun and easy? Borrowing a loan online with ID card ( vay online bằng CMND ) is a type of loan for customers who do not have collateral and want to receive money quickly within the day. The registration is done completely online. If you are approved for a loan, the money will be transferred within 20 minutes!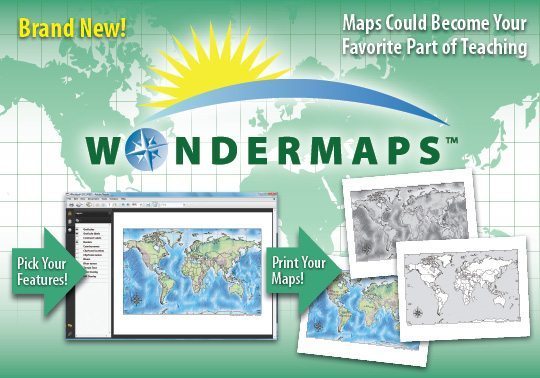 WonderMaps is an online map program that includes over 300 different map types. (WonderMap tutorial video)
75 maps of the world
60+ maps of the USA
150+ historical maps, including 30 biblical maps
The complete map sets from The Mystery of History vols. I–IV and All American History vols. I & II
Bright Ideas Press offers atlases covering different regions and topics.