Laurie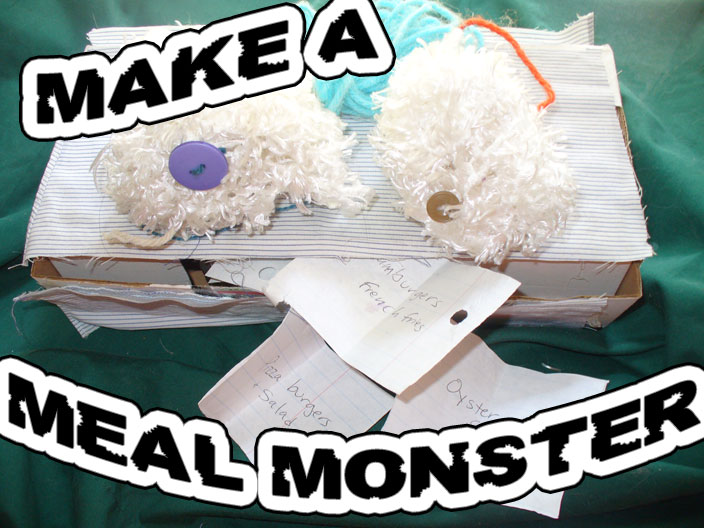 December is such a busy month that the last thing any family needs is to stress over what's for dinner. If you're anything like our family, you have several meals that your family loves but that you tend to forget. Perhaps, like me, you fall into a rut of endlessly rotating meals until everyone in the family is sick of them.
During the holidays, taking the time to prepare for original, unique meals seems to become even more out of reach.
My family implemented a fun idea for remembering those meals that everyone wows about so that you don't forget them. This method also helps you mix up your meal plans and prepare your grocery list.
Make a Meal Monster.
Get a clean container. It can be an empty coffee can, a clean milk carton, or a box. Cut a flap for the mouth so you can reach in and pull the papers out. A coffee can is ideal because you can cut a slit in the plastic lid for the mouth and remove the entire lid to pull out the different cards.
Cover the container. Use fabric, felt, or paper to make your monster's fur. My kids repurposed an old shirt to cover our meal monster.
Add features.  Children love decorating the meal monster with eyes, hair, horns, and antennae. Let them be creative in designing the family monster, and they'll be more likely to use him.
Feed your monster. Write down favorite family meals on slips of paper and feed them into the monster's mouth. Involve everyone in the family to ensure that you have plenty of choices in your monster. Don't forget that you can always come back and add more meals.
Grocery Shopping Help
Another benefit in making a Meal Monster is in preparing your grocery shopping list. Older children can help you write down necessary ingredients for each meal on the back of your meal cards. Then, when it's time to write your grocery list, simply select the meals for the next week from your Monster and copy the ingredients to your list.
Always keep blank slips of paper near your Meal Monster and encourage your family to write down foods that they are craving. Little ones can draw pictures of their choices and older siblings can label them.
Meal Monsters help remove the "meatloaf again?" complaints and add plenty of "this was my meal idea!" to your dinner times.