Jenn Hamrick
We are approaching that time of year!
A lot of you are counting down the days until summer – evaluating what has been successful and making a list of changes for next.
In making your lists and checking them twice, many of you are planning curriculum for fall.
Bright Ideas Press wants to help you with just that!
One lucky winner will win his/her volume of choice of The Mystery of History.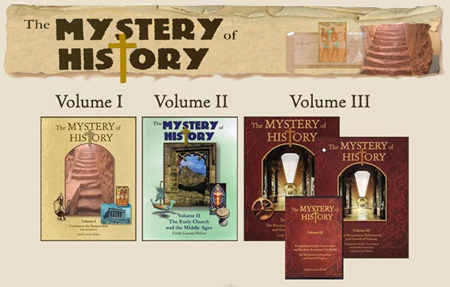 The Mystery of History series is everything a family needs for teaching history with a strong Biblical worldview. Multi-age activities, book and video lists, memory helps, timeline suggestions, quizzes, and map work included.
Volume 1 – Creation to the Resurrection
This is everything you need for teaching Ancient Civilizations through the time of Christ, all in one book. Chronological, Classical, Complete. This is a truly unique and remarkable new product! Written for 4th – 8th graders but adaptable for the whole family.

Volume 2 -The Early Church and the Middle Ages
From AD 30 to 1460. Your students will discover how God continually reveals himself in this big-picture look at world events from Pentecost to the printing press. User-friendly format features lively text, quizzes and tests, reviews, projects and activities, timeline and mapping assignments, answer keys, reproducible student pages, and more.

Volume 3 – Renaissance, Reformation, and Exploration
The Mystery of History Volume III continues the spectacular and provocative study of world history from the viewpoint of a Christian author. Spanning the Renaissance, Reformation, Exploration, and some early American history, this volume explores the backdrop to and the significance surrounding the time-honored contributions found in art, music, literature, science, and philosophy of this rich era. Though it is recommended that Volumes I and II be studied prior to this volume, it is not necessary. Volume III can stand alone as a full course of Renaissance/Reformation history.
Chronological, Classical, Complete.