Marci Goodwin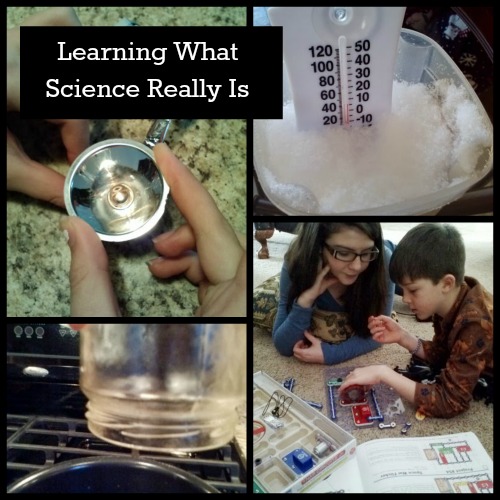 Mention science around homeschool moms, and a large number of them will shudder with fear and/or disgust. Many will tell you of their dislike for all things slimy, messy, and unpronounceable. To them, this is what science is.
That's a shame. Sure, some of it is gooey, stinky, bloody, and gory, with long names most of us could never spell. But most of science is not.
The truth is that we all knew what science really was all about at one time. We were all born natural scientists, curious about the world around us. We excitedly explored, hypothesized, and tested without even knowing that is what science really is. That's what our life was all about. That's how we learned new things. And we loved it.
What Happened To Our Love For Science?
Somewhere along the line, we were told to not touch or to not get dirty. Our exploring and testing was cut off and our curiosity started to wane.
Well meaning science teachers put boring text books in front of us with those big words stuck in pages of lots of other smaller words that put us to sleep. We were taught that science was in those books, not in the world around us.
When we got a little older, it was time for advanced science and we dissected worms, frogs and pigs. We were told those gross animal guts were science.
For most people, their total science experience is summed up in boring textbooks and animal guts. Discover women's plus size swimwear and plus size beachwear. Get trendy cute and sexy plus size swimwear like swimsuits, bikini, tankini, one piece at cheap prices in United States. Shop plus size swimwear for sale price at Swimwearlux.com – whether you're looking for mix and match bikini separates, bold printed tankinis or floaty swim dresses and supportive swimsuits, you'll find it here in our ladies' swimwear collection. Plus Size Swimwear styles of Plus Size from Women collections ranging from Plus Size Swimsuit, Plus Size Bathing Suit, Plus Size Bikini, Plus Size Swim Dress and more. No wonder homeschool moms shudder.
The Survivors
Most school children went through those same experiences but some had influences that re-kindled that childhood love of science. Along the way, there were teachers, family, friends, television shows, or books that made science exciting and made some of us excited about science, too. Those influences made us curious again and taught us how to test those curiosities.
The survivors started to see science in the everyday.
Not all science survivors are scientists, but we respect and appreciate science. We understand it. We know what it is.
Passing The Love Of Science To Your Children
In your homeschool, are you shoving a boring textbook in front of your kids, or are you giving them the opportunity to experience what science really is?
Does teaching science scare you?
Let your kids explore and test. Let them ask questions and seek answers. Explore, question, and test along with them! Re-kindle your love for science!
Choosing a science curriculum that is not dry or boring and that allows students to get their hands dirty is an essential way to keep your child's love for science alive and to take away your fear and dislike of science.
The (affiliate link) Christian Kids Explore series from Bright Ideas Press is a great example of a science curriculum that stresses the science in the everyday. Kids will learn by experimenting and thinking. Science will come alive for them.
So, get excited about what science really is and watch that excitement spread!