On the second Thursday of each month from 1:30 to 1:45 p.m. ET, Tyler Hogan, the president of Bright Ideas Press, will be giving short interviews of 10-15 minutes on various homeschool and parenting topics. If you have questions about our scheduled topics, please click through to the videos to leave them. Then join us live or watch the replay via YouTube. The videos are embedded below for your convenience so you can watch right here on this page.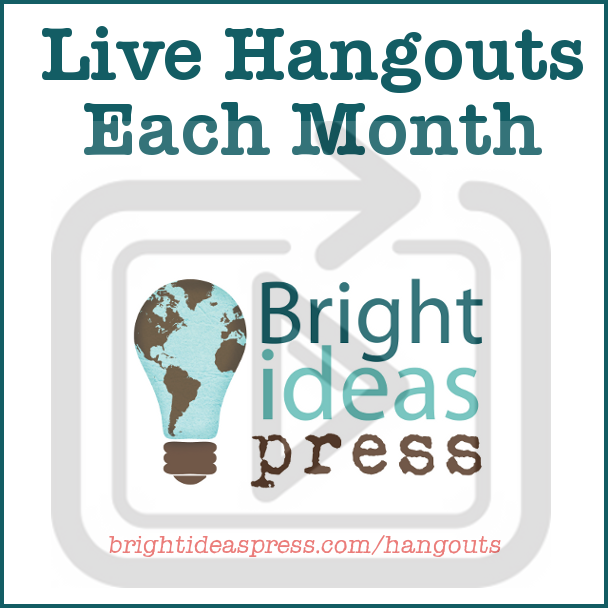 See all of our past hangouts on the Bright Ideas Press YouTube channel.
UPCOMING HANGOUTS
January 2017
Thursday, Jan. 12, 1:30 p.m. ET
TOPIC: Homeschool Geography Skills
PREVIOUS HANGOUTS
December 2015
TOPIC: How Do You Know When You are Doing Enough for Homeschool?
January 2016
TOPIC: Media Discernment for Homeschoolers
February 2016
TOPIC: Preparing for College as a Homeschooler
March 2016
TOPIC: Alternatives to College for Homeschoolers
April 2016
TOPIC: How to Read a Wrong Book
May 2016
TOPIC: Teaching Entrepreneurship at Home
August 2016
TOPIC: Helping Kids Process Emotions
September 2016
TOPIC: US Elections for Homeschoolers
October 2016
TOPIC: How to Homeschool Without an Answer Key
November 2016
TOPIC: Making Education Edible
December 2016
TOPIC: Pros and Cons of Early Homeschool Graduation