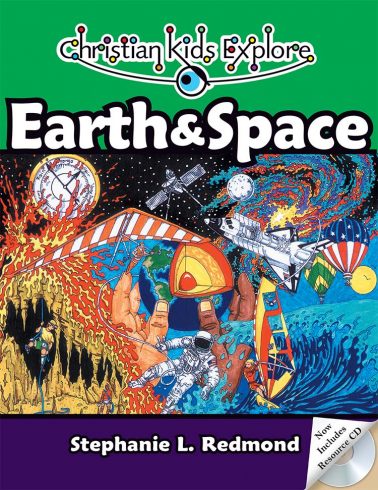 Christian Kids Explore Earth and Space
$39.95 – $99.88
Description
FAQ
Reviews (2)
Additional information
Description
Break the concept of the universe into manageable bites! This user-friendly text covers the earth, lithosphere, hydrosphere, atmosphere and weather in 24 lessons in 30 weeks. Each unit includes vocabulary words; Scripture quotes; coloring pages; resource list; timeline prompts; reviews; hands-on activities (building models, simulating volcanoes and more).
Lessons include conversational text that clearly explains new concepts in a friendly tone spoken directly to the student; notes in the margin explain unfamiliar words or concepts. Unit "wrap ups" ensure all work is finished before moving on to a unit quiz. 360 indexed pages, softcover. Answers included, along with many reproducible supplemental activities. For grades 1-6.
Now including a convenient, easy-to-use Resource CD, unlocking the mystery of science has never been easier. The brand-new CD includes: Daily Lesson Plans, Materials Lists, bonus Literature Study Guide, and all reproducibles, such as:
Coloring Pages
Unit Reviews
Review Questions
Activity Charts
You won't want to miss this updated, revamped version of everybody's favorite science curriculum! Get it now and discover a whole new world of God's creation
Checkout our CKE video here
About the author:
Stephanie Redmond is the proud mom of three grown children, Mike, Taylor and Rachel. She has been happily married to Andy for 32 years and is grateful for the adventures Andy's Air Force career brought their way.  Now that her children are grown and married, Stephanie enjoys running her own business. She and Andy live on a lake in Georgia. Looking back on the positive impact homeschooling had on her family, she eagerly encourages others to try the adventure.
<h2>The Christian Kids Explore program seems simple, will it be enough for my older ones?</h2>
The material is there. It really depends on what you do with it. For instance, if all you do is have them read the teaching lesson and then later in the week complete a hands-on activity, they won't retain as much as they would if you spend more time on it. For example, if you go over the teaching lesson, ask questions, have them complete the vocabulary and the daily reading sheets (which are intended to get them to focus and review the material), then follow through with the hands-on activity later that week and give a verbal review, it would be a meaty program for older students.
<h2>How do I use Christian Kids Explore with multiple ages?</h2>
This depends so much on what your family prefers. For younger students, you might read it out loud and discuss it, while little ones busy their hands with a coloring page, which we include in the books.
OR
You can let older ones read for themselves, write out the vocabulary and complete a daily reading sheet, reviewing what they read. With the younger ones, you can read the information first (to yourself) and explain the topic while doing a hands-on activity.
<h2>We study according to the classical model. How does the Christian Kids Explore series fit in with that?</h2>
First of all, as recommended in <em>The Well Trained Mind</em>, <em>Christian Kids Explore Biology</em> is a full year of just biology. We also offer a full year of earth science in <em>Christian Kids Explore Earth &amp; Space</em>. Biology and Earth &amp; Space are best suited for grades 1-6, although they are adaptable. For 6th-8th graders we offer <em>Christian Kids Explore Chemistry</em> and <em>Christian Kids Explore Physics</em>. These two books were written by college professors and creation scientists Robert and Elizabeth Ridlon. These books are all set up to be taught twice weekly. They are creative with a reasonable amount of research and memory work required. We worked to keep them usable for classical families and still practical for busy families. One major goal was to keep it creation based and God-centered.
<h2>Why do you say that CKE Biology and CKE Earth &amp; Space can be scaled down for younger users, but you don't suggest that for CKE Chemistry or CKE Physics?</h2>
This is because of the subject matter. Biology can be simplified so that it can be understandable for younger students. Chemistry and Physics do not have this same kind of flexibility. It is difficult to simplify chemistry so that it can be accessible to early elementary students. We would suggest that you use <em>Christian Kids Explore Biology</em> and <em>Christian Kids Explore Earth and Space</em> with younger students, and saving <em>Christian Kids Explore Chemistry</em> and <em>Christian Kids Explore Physics</em> for upper elementary and middle school students when they will be able to understand it more fully.
<h2>Can CKE Chemistry or Physics work as high school curriculum?</h2>
If a high school student is struggling with chemistry or physics, it is possible that this could be modified to work by adding several supplemental readings and projects, but this was not designed to fulfill the high school science requirement. Many of our users have told us that the terminology and lessons learned were exactly the same as their high curriculum, without the math.
<h2>Is there a good resource list?</h2>
There is an incredible resource list in the back of each book. It is already organized according to the units of the book (not by age). The ISBNs are even listed to make ordering a breeze. We did the best we could to weed through all the books out there, but of course in science, many of the books are secular in nature and refer to evolution. Each family will have to decide for themselves how to deal with that issue. You will also find a cross in front of the books that are specifically Christian in nature.
<h2>Can I use the material inside one of the volumes out of order?</h2>
Yes! Sometimes later units build upon earlier units, but with a little reading, you can rearrange to make it work. It would make more sense to do mammals before humans, since humans are mammals, but it would not be essential.
<h2>What is the Student Activity Book?</h2>
The Student Activity Book is a download for CKE Biology or CKE Earth &amp; Space, whichever you choose, that contains all of the worksheets, quizzes, and other reproducibles so that you can print them out when you want them rather than requiring you to make copies.
<h2>What's new about the 2nd Edition of CKE Chemistry and CKE Physics?</h2>
Apart from a few typo fixes and revisions, the only major difference is the bonus CD. If you want to be caught up, just buy a copy of the Resource CD.
<h2>How does the co-op license work for these books?</h2>
You pay 2.5x the price of the book for the license and we will send you the book and the Student Activity Book or Reproducibles CD, whichever goes with the book. This allows you to make copies of anything in the book for up to 25 students. Call our office if you would like more details!
Additional information
| | |
| --- | --- |
| Weight | 2.9 lbs |
| Dimensions | 11.5 x 8.8 x 1.2 in |
| Manufacturer | Bright Ideas Press |
| License Type | Single Family Use Only, Co-op / Classroom license |
| Format | Download, Paperback |
| Operating System | Mac, PC |
You may also like…
Christian Kids Explore Physics

Make physics an exciting adventure with the 2nd Editions of CKE: Physics! Now including a convenient, easy-to-use Resource CD, unlocking the mystery of science has never been easier. The brand-new CD includes Daily Lesson Plans, Materials Lists, Bonus Literature Study Guide, and All Reproducibles, such as:

Coloring Pages
Unit Reviews
Follow-Up Questions for each lesson
Activity Charts

$

39.95 –

$

99.88

Christian Kids Explore Creation Science

$

39.95 –

$

99.88

Christian Kids Explore Earth and Space Resource Download

Tired of making photocopies or skipping activities because you don't have the pages ready for your students to work on? We've taken every possible reproducible page from Christian Kids Explore Earth and Space and turned them into one printable digital download for you! Review-its, Wrap-ups, Coloring pages, Activity and Experiment forms are all included.

$

9.95 –

$

24.88
Related Products
All American History Volume II Student Activity Book

The accompanying activity book to All American History Volume II Student Reader and Teacher's Guide, this interactive book is full of multi-sensory approaches to learning. 32 weekly lesson reviews help retention of materials; multiple choice, matching and short answer questions are all used, and four unit wrap-ups provide assessment and summarization. Map work and additional study questions round out geography and give the readings additional depth.

$

16.95 –

$

42.38