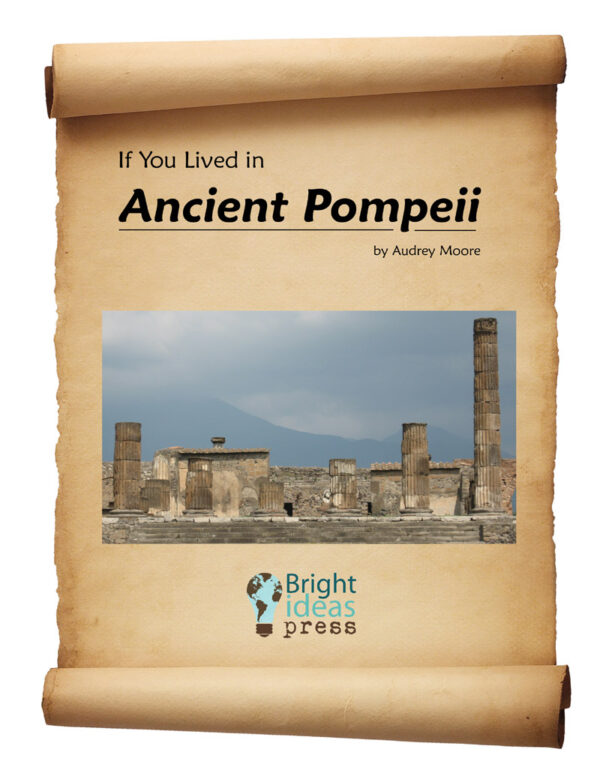 If You Lived in Ancient Pompeii
$2.99
Out of stock
Description
Additional information
Description
The Bright Ideas Press study guide, If You Lived in Ancient Pompeii" reveals the patterns of everyday life in the ancient Roman city of Pompeii. Since the volcanic ash from Mount Vesuvius destroyed the city almost instantaneously, archeologists were able to uncover everyday objects from the site, leaving a picture of life from that time period. This study guide discusses the artifacts which were found and how they
piece together to create a snapshot of everyday life in ancient Pompeii.
 The 16-page guide works as a perfect supplement to any history program for fourth grade through high school.
When the ancient city of Pompeii, Italy was suddenly covered in volcanic ash from Mount Vesuvius, time stood still. Many people were able to flee the city, but tables were set, loaves of bread were left in the oven, and clothing still sat neatly in its place. "If you Lived in Ancient Pompeii" by Bright Ideas Press, discusses the history of Pompeii and gives insight into everyday life for the people who lived in this ancient Roman city.
Students will learn about the geography of the city and why it was beneficial to live next to the volcano of Vesuvius. The study guide breaks down the social order of the day, from Emperor to slave, and what life was like for each class as well as what family roles consisted of during the time. The eruption from Mount Vesuvius destroyed much of the poor housing, which was built above or behind shops; however details were uncovered about how the upper class lived. Students can learn about food, clothing, entertainment, and religion and answer study questions on each topic. Detailed pictures, a crossword puzzle, and vocabulary are also included in the guide, making it a quick and complete lesson on the city of Pompeii. The bibliography at the end makes for a great starting point for further studies on Pompeii
Additional information
| | |
| --- | --- |
| Manufacturer | Bright Ideas Press |