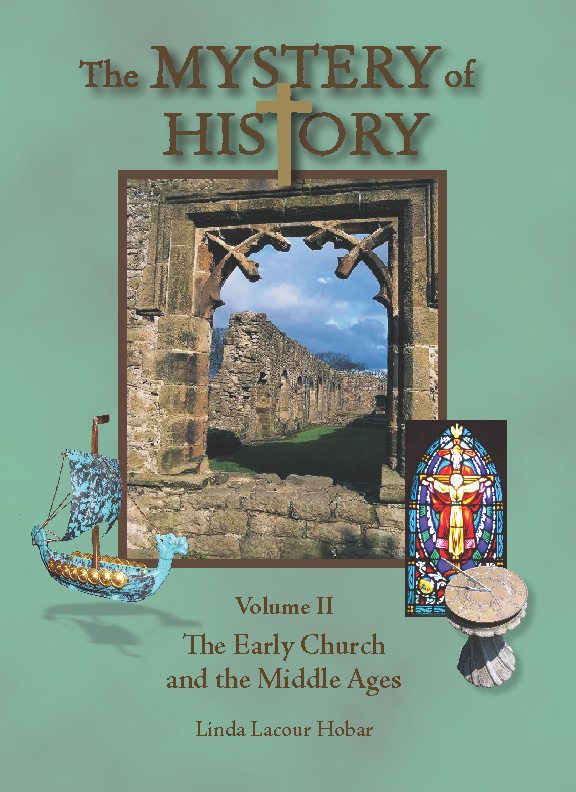 The Mystery of History, Volume II
$49.95 – $124.88
The Mystery of History, Volume II explores the time of the Early Church to the Middle Ages from AD 30 to 1460. Your students will discover how God continually reveals Himself in this big-picture look at world events from Pentecost to the printing press. User-friendly format features lively text, quizzes and tests, reviews, projects and activities, timeline and mapping assignments, answer keys, reproducible student pages, and more. 750+ pages
Description
FAQ
Sample
MOH II Map Answer Key
Reviews (0)
Additional information
Description
The Mystery of History, Volume II continues the story of God's working in history with lessons that cover the early church that arose after the death of Christ (AD 33) through the Middle Ages and the invention of the printing press.
This classical curriculum is written from a Christian, young-earth perspective, and gives students insight into how the Gospel of Jesus is the mystery behind all of history! Written in a conversational style, this curriculum is arranged by semester, quarters, weeks, and lessons; each quarter begins with an "Around the World" summary of events to introduce the time period; lessons progress chronologically, with each week having 3 lessons, a pretest, review, activities (including Memory Cards), and exercise or quiz. This book integrates the text with write-in activity pages; these pages are reproducible for family use or students can write directly on the worksheets. The 84 lessons will take a year to complete if you follow a traditional 36-week school year (3 lessons per week). 714 three-hole-punched and perforated pages. Softcover consumable workbook. Activity pages are reproducible for in-family use only.
Checkout the Volume 2 Reproducibles CD to save time making copies!
How many volumes are in The Mystery of History series?
How does MOH work for all ages?
At the end of each lesson, there are activities created specifically for elementary, junior high, and high school users. The lessons are written at a 4th-8th grade level, so it is simple enough for young users to understand while still containing plenty of scholastic information for the older students. By choosing hands-on activities and projects that are appropriate for the student's age, you could have a Kindergartener and High School student studying together!
Are all of the supplemental resources required?
Yes and no. We created the supplemental resources to enhance your experience with MOH. We want history to be as memorable, practical, and easy-to-use as possible. Most of them are not required, but we do highly recommend them. There are a few things you will need though, including a good historical atlas and a Bible atlas, and both the Reader and Companion Guide are necessary for Volume III, Volume IV has the Companion Guide included. 
Is MOH meaty enough for high school students? Could it work as our American history course?
Yes! MOH is very adaptable to any age. Along with the appropriate activities provided for high school students, you may choose to supplement these with additional essays, reading, or related projects. This will work to fulfill high school credit requirements.
Yet, we do not suggest you use MOH as an American History course because it covers history all over the world, not America specifically. If you are looking for an interactive American History course, check out All American History.
I've heard of a lot of people who supplement MOH with other curricula. This makes me nervous. Is MOH not enough?
MOH is plenty on its own, it is a complete curriculum. There are several reasons people supplement. Some parents supplement to meet the needs of their children's extreme interest levels. Others are striving to meet different learning styles of their children. Some homeschoolers are simply "curriculum junkies" (we have some on our staff!) who have trouble stopping at just one and not using everything that's out there.
Will MOH work well for my co-op?
Yes! MOH is straightforward enough that it is simple to use in a co-op setting. The activities and other supplemental resources you can get a hold of are great for multiple users. You can even purchase in bulk and receive a 30% discount or look into getting a hold of a co-op license to save in costs.
What's new in the second edition of Volume 1?
We have made some wonderful changes to this classic text. For starters, we have:
Updated the lessons to reflect the most current research,
Included additional teacher support information,
Added answer key maps for the geography component,
Changed or added new illustrations for many lessons,
Added 114+ pages of information, activities, resource lists, and more!
I need advice on how to do a timeline or complete an activity. What do other families do?
If you need advice on how other families do things, connect with us on our Facebook page or in one of our Facebook groups! It's a great place to ask your questions and interact with other families using The Mystery of History!
We have received considerable interest in answer keys for the map work in The Mystery of History Volume II. Until we create official answer key maps in a future reprint, we offer the mapping assignment answers here for your reference.
MOH II Map Answer Key
Additional information
| | |
| --- | --- |
| Weight | 4.4 lbs |
| Dimensions | 11.5 × 8.8 × 1.9 in |
| Manufacturer | Bright Ideas Press |
| License Type | Co-op / Classroom license, Single Family Use Only |
| Format | ePub, Kindle, Paperback |
You may also like…
The Mystery of History Volume II Super Supplemental Collection

All of The Mystery of History Volume 2 supplements bundled into one collection at a huge savings!

This product includes:

$

59.95 –

$

149.88

The Mystery of History Bundle

Mix-and-match products to make your own The Mystery of History bundle!  Starting at $49.95, choose from companion guides, atlases, timeline figures and more.

From:

The Mystery of History Volume II Cookbook

The historical recipes in this cookbook follow the chronology of The Mystery of History Volume II, taking you on a culinary journey through the cultures and times of the Early Church and the Middle Ages. It offers a recipe for each of the 28 weeks of The Mystery of History Volume II, along with ingredient lists, step-by-step cooking instructions, and notes about the foods and customs of the period the recipe represents. Includes printable recipe cards and a geographic index.

$

8.00 –

$

20.00