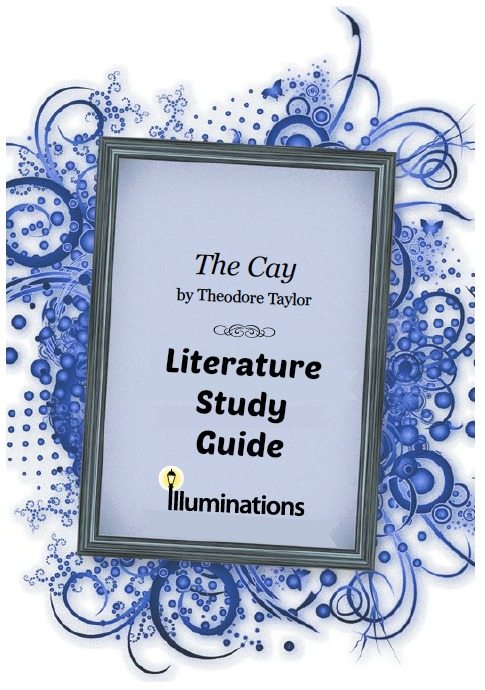 The Cay Literature Study Guide
$10.00
This is a 2 week Literature Study Guide created as a summer study guide for Illuminations Year 2. It is a great book to read anytime, but it would particularly enhance your study of World War II.
Out of stock
Description
This 2-week Study Guide provides you with a Student Guide (13 pages) and an Answer Key (17 pages) which include the following:
Discussion Generators
Vocabulary
Hands-On Activities
Geography
Literary Elements

Point of View
Similes
Metaphors

Wrap-Up Projects
This study guide can also be found in Illuminations Year 2.
Buy the book from Amazon
Book description from Amazon.com:
Phillip is excited when the Germans invade the small island of Curaçao. War has always been a game to him, and he's eager to glimpse it firsthand–until the freighter he and his mother are traveling to the United States on is torpedoed.
When Phillip comes to, he is on a small raft in the middle of the sea. Besides Stew Cat, his only companion is an old West Indian, Timothy. Phillip remembers his mother's warning about black people: "They are different, and they live differently."
But by the time the castaways arrive on a small island, Phillip's head injury has made him blind and dependent on Timothy.
You may also like…
The Mystery of History Volume IV

The Mystery of History Volume IV is now available! Volume IV unfolds three centuries of word history, from the wars of independence to modern times (1708- present) with author Linda Hobar's distinctly Christian perspective.

The Student Reader now contains 84 stirring lessons  in a colorful, easy-to-hold hardback. The reader is a stand alone world history text for all ages to enjoy. (See note below.) But for those who wish to delve deeper, we have included a download code in each book for a digital version of The Mystery of History Volume IV Companion Guide. The reproducible resources of the Companion Guide, written also by Linda Lacour Hobar, contain familiar and popular components of The Mystery of History series: pretests; hands-on activities and research projects for younger, middle, and older students; memory card ideas; bi-weekly quizzes and exercises; timeline helps; maps; supplemental book lists; and more.

$

74.95 –

$

125.00