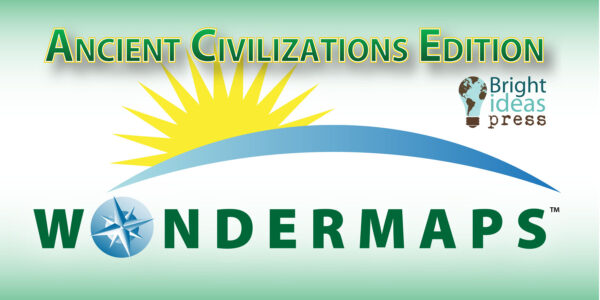 WonderMaps – Ancient Civilizations Edition
$14.95
Description
List of Maps Included
Reviews (0)
Additional information
Description
From Abraham's journeys, to Chinese dynasties, to the Roman Empire, WonderMaps Ancient Civilizations Edition will enhance any study of Ancient History. It includes 51 historical maps, 19 modern maps, and as a bonus for The Mystery of History Volume 1 users, a Map Guide for the mapping assignments in that book and all of the blank outline maps that you need to complete the assignments. Bargain prices at just $14.95!
WonderMaps–Ancient Civilizations Edition includes 70 maps and corresponds well with The Mystery of History Volume I.
WonderMaps is designed with easy-to-use layers that allow you to enjoy great customizable features with just a click.
You can select:
historical or modern-day maps
outline, reference, political, or topographical maps
black-and-white or color maps
features including: names, borders, rivers, cities, physical features, and graticules
New in version 1.2: you can now edit maps, add text, and draw right in Adobe Reader! Save your additions and print them, too. This is a downloadable product. Be sure you are using the most recent version of Adobe Reader.
Discover how much excitement maps and geography will add to your learning experience through the amazing features of WonderMaps.
WonderMaps Version 1.1 Release notes:
Added Map Guides for MOH 1 (1st and 2nd edition) and MOH 2: WonderMaps can be used to answer all the geography questions in both MOH 1 and 2 without any other atlases or reference materials
Added 13 new maps
Updated 59 maps with new or corrected information
Fixed broken links and typos
Fixed view settings on a few maps
You may also like…
WonderMaps

Discover how much excitement maps and geography will add to your learning experience through the amazing features of WonderMaps 1.2 — You can now edit your maps right on your computer with Adobe Reader!

WonderMaps has over 300 maps, including:


75 maps of the world
60+ maps of the USA
150+ historical maps, including 30 biblical maps
The complete map sets from The Mystery of History vols. I–IV and All American History vols. I & II

Version 1.2 requires Adobe Acrobat Reader DC (a free download) and 350 MB hard drive space to run properly.

$

49.95 –

$

124.88