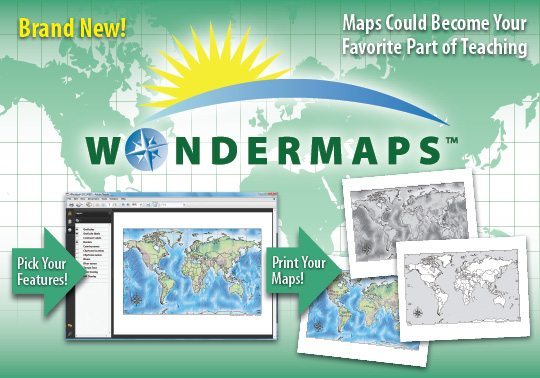 WonderMaps
$49.95 – $124.88
Discover how much excitement maps and geography will add to your learning experience through the amazing features of WonderMaps 1.2 — You can now edit your maps right on your computer with Adobe Reader!
WonderMaps has over 300 maps, including:

75 maps of the world
60+ maps of the USA
150+ historical maps, including 30 biblical maps
The complete map sets from The Mystery of History vols. I–IV and All American History vols. I & II
Version 1.2 requires Adobe Acrobat Reader DC (a free download) and 350 MB hard drive space to run properly.
Description
FAQ
Sample
Reviews (2)
Additional information
Description
Maps are an integral part of many homeschooling projects, from lap books to notebooks to posters. WonderMaps is destined to become a go-to resource!
A customizable, printable collection of over 300 maps, WonderMaps includes:
Historical and modern-day maps
Outline, reference, political, and topographical maps
Black-and-white and color maps
Features including names, borders, rivers, cities, physical features, and graticules
New in version 1.2: you can now edit maps, add text, and draw right in Adobe Reader! Save your additions and print them, too.
WonderMaps is a customizable collection of over 300 different maps. With nearly endless possibilities, WonderMaps makes it easy to regularly integrate map study into a variety of lessons and make the most of every learning opportunity.
Whether it's history, literature, science, current events, or Bible, maps play an integral role in thoroughly understanding the topic at hand. WonderMaps is designed with easy-to-use layers that let you customize each map. And now, you can also edit and annotate your maps before printing!
WonderMaps includes:
Discover how much excitement maps and geography will add to your learning experience through the amazing features of WonderMaps.
Be sure you are using the most recent version of Adobe Reader.
WonderMaps

 Version 1.1 Release notes:
Added 

Map

 Guides for MOH 1 (1st and 2nd edition) and MOH 2: 

WonderMaps

 can be used to answer all the geography questions in both MOH 1 and 2 without any other atlases or reference materials!
Added 13 new 

maps

Updated 59 

maps

 with new or corrected information

Fixed broken links and typos

Fixed view settings on a few 

maps
Does it work on a mac (or PC)?
Yes, because it uses Adobe Reader, it works on any system without a problem. Just make sure you have the latest update to Adobe Reader (10.0 or higher), this will save any complications.
Does it cover the maps I need for The Mystery of History or All American History?
Yes it does! WonderMaps was created not only with hundreds of world maps but also a large selection of historical maps that cover everything you need for MOH 1-2* and AAH 1 – 2 (maps also cover both the 1st and 2nd Editions of MOH 1).
WonderMaps even has the MOH and AAH maps specifically set aside, so they are easy to find, print, and use. WonderMaps can take the place of any historical atlas you would use with these programs.
*The full set of maps for MOH III will be included in version 1.1, which we hope to make available this year.
Yes you can. Use the Zoom tool in the View menu to focus on the area you want. When you print your document, select the "print current view" option, and instead of printing the entire page, it will print only the area you're focused on. This makes the number of maps you can customize nearly endless!
Can I write/type/draw on the map within the program?
At this time, WonderMaps does not support writing or drawing on the maps within the program. If you need to do mark up a map, you'll need to do so on paper.
You're missing a map I really want! How do I suggest map additions or corrections?
If you register your copy of WonderMaps, there's a form you can fill out in the member's section. Submit your form, and it will go right to the development team for their review. You get bonus points if you provide a source for any historical information you want us to add 🙂
Does WonderMaps work on an iPad?
We haven't tested it exhaustively to say for sure, but if you have a good PDF reader and ePrinter, it should be possible to copy it over from your computer. It may not work quite right, but it's worth a shot! Let us know what you find out if you test it.
I want to print out maps for my co-op/classroom/Sunday School/etc. Is that OK?
If you purchase a co-op or classroom license, that's fine! You can print out maps for up to 25 students per license. Check out our Co-Op & Classroom section for more information.
Download a sample of WonderMaps.

This sample is a .zip file — if you're on a mobile device or tablet, click here to learn how to open it.
Additional information
| | |
| --- | --- |
| Weight | .5 lbs |
| Dimensions | 7.5 × 5.5 × .6 in |
| Manufacturer | Bright Ideas Press |
| License Type | Church License, Co-op / Classroom license, Single Family Use Only |
| Format | CD, Download |
| Operating System | Mac, PC |
You may also like…
North Star Geography + WonderMaps Bundle

Geography is more than just place names and outline maps-it's understanding how the world around us works! North Star Geography gives students a deep understanding of how geography impacts all of us every day-with real-life applications for college, career, citizenship, and ministry.

Written from a distinctly Christian perspective by a homeschool grad (now a homeschool dad), North Star Geography is a full high school credit. It covers: geography skills, physic geography, and human geography.  While the included Companion Guide DCD offers many reproducible activities, maps, and assessment tools.

Also included in this set is a WonderMaps! Download this customizable collection of over 350 different maps. With nearly endless possibilities, WonderMaps makes it easy to regularly integrate map study into a variety of lessons and make the most of every learning opportunity.  Explore historical or modern-day maps; outline, reference, political, or topographical maps with features including: names, borders, rivers, cities, physical features, and graticules.

From: